Jefferson Latin Team competes in Certamen Kickoff
Seven teams from Jefferson competed in the event, kicking off the Certamen season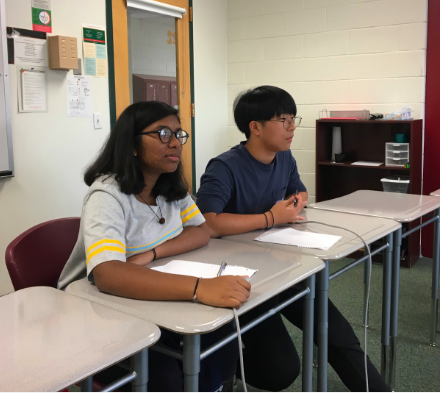 The Jefferson Latin Certamen Team started the new certamen season at the kickoff held by the Virginia Junior Classical League on Saturday, Oct. 26.  The event took place from 10 a.m to 2 p.m at St. Stephen's and St. Agnes Upper School. 27 students were divided into seven teams, with one team competing in the novice competitive level, two teams competing in the intermediate competitive level and four teams competing in the advanced competitive level.
Certamen is a quiz-bowl styled competition with questions that specifically focus on Latin grammar, Roman history, and mythology. 
"It's a good way to learn extra information, but it's also very fun, and students get to bond with their teams," Latin teacher Ms. Patrica Lister said.
This year, Jefferson's Certamen team won third place at the novice level, second and fourth place at the intermediate level and first place at the advanced level. Lauren Fisher, the freshman captain of one of the intermediate teams, was pleased with the ultimate result. 
"It was a rewarding experience because we had tried really hard for the first couple of rounds and I was also really proud of our team because it was the first time we had done it," Fisher said. 
Joining the returning members of the Latin Certamen Team at the kickoff, ten new freshmen members have competed in the kickoff and have enjoyed the experience. 
"My favorite part was when we pulled forward and finally took second place after we were tied for third," freshman member Dhanbee Suh said. "It was a very exhilarating experience overall."