JV Softball plays Wakefield for the last game of the season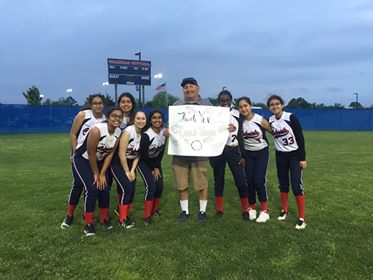 The Jefferson junior varsity softball team played their last game,against Wakefield on May 8. The final score of the game was 0-13. The first inning began with the Colonials pitching and the Warriors batting.
The first inning began with junior Anika Kololgi, the Jefferson Colonials' captain, pitching and sophomore Lisa Raj catching. Kololgi's first four pitches were balls, resulting in the Wakefield Warriors gaining a base. After the first strike and four more balls, the Warriors received another base. This pattern of a couple strikes, and mostly balls, gave the Warriors five runs. With a good ball, Raj attempted to make a play by throwing the ball to freshman Libby McClough at first base. Due to a rule in JV games, after the opposite team scores five runs with any outs, pitchers and batters switch.
Due to the Colonials having the exact number of players to field a team (eleven players), they pulled varsity players, senior Grace Stewart and McClough down to JV for the game. Stewart was the first to bat. After a 'no pitch call,' Stewart was out after hitting the ball towards first base. Freshman Neha Bagalkot did the same. Sophomore captain, Gabby Heller was out after three strikes, ending the first inning.
The second inning was similar to the first, as the Warriors scored five runs before receiving any outs and the Colonials received three outs before scoring any runs.
On the other hand, the third inning was quite inconsistent with the first two. The Colonials handed the Warriors three outs before any runs were scored. Bagalkot caught the ball out of the air, near third base after a Wakefield player hit the ball. After Kololgi picked up the ball from the ground and threw it to McClough, another Wakefield player was taken out. The last out was carried out by Raj, after the ball was hit vertically, such that she was able to catch it out of the air.
The Colonials' batting during the third inning was consistent with the first two innings. However, their fourth and fifth innings in terms of pitching was consistent with their third inning, although they did allow for the Warriors to score three more runs with those two innings.
The biggest thing about last game was our cohesiveness, such as making plays together, sacrificing so a team member can get a run, or just trusting each other to catch the ball," Raj said. "This is something our team specifically lacked at the beginning of the season, as many of us were completely new to softball, but with hard work throughout the season, we were able to communicate and play softball as a team, instead of just a group of players."