TSA Competes At Regionals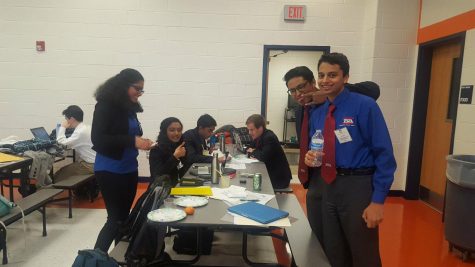 Months of effort in preparing for different events culminated in a regional competition at Briar Woods High School in Ashburn, Virginia for Jefferson's Technology Student Association (TSA) on March 17.
"[We] compete in a diverse array of events related to technology, like speaking, building, and extemporaneous events. We have three main competitions: Regionals, States, and Nationals," TSA President and senior Vaishnavi Nara said.  
Members competed in different events that pertained to their interests. Events involved everything from writing essays to doing extemporaneous speaking. Other events included racing cars, modeling solutions to issues using CAD software, as well as using video editing software to create videos based around a central theme.  This year's theme was "TSA Competitive Event Infomercial."
"I'm doing Extemporaneous Speech and Essays on Technology. [I am doing] Essays on Technology mainly because I'm good at writing essays but I've always wanted to do exercises with analyzing articles. With Extemporaneous Speech, it was a complete whim." junior Sammy Tavassoli said.
Having TSA experience in events for multiple years can help members be better prepared for any unexpected changes. From delays in the competition date due to snow or power outages to a change in the topic for an event just one day before the competition, the alterations can lead to disorientation for new competitors. However, for more experienced members, the alterations are easier to adjust to and modify their approach to the event accordingly.
"I think that because I have prior knowledge of what's happened in my events, I can better adapt to any changes that happen. Last year, they made a new rule where they gave a topic one day before so just having that kind of knowledge of how to create a slide deck, or how to make a presentation, really helps." Nara stated.  
Although TSA focuses mainly on technology, its members have a diverse range of interests. From robotics to medicine, there is an event for everyone. Examples include: Fashion Design and Technology, Animatronics, Children's Stories and Music Production, among others.
"So I'm not into technology as a career; I'm actually more into medicine, but I think that having this knowledge about technology, whether it be in healthcare, or in the medical field, is really helpful because technology plays a really vital role in everything from STEM to the humanities. It helps you keep up with the trends and stay connected." Nara said.
At the awards ceremony, TJ TSA received several awards. TJ TSA took home the following: third place in Engineering CAD, first, second, and third places in Debating Technological Issues, first place in Essays on Technology and second and third place in Extemporaneous Presentation. Additionally, TJ TSA also received third place in Flight Endurance and Music Production, first place in Photographic Technology, second place in Prepared Presentation, first and third places in STEM Careers, first place in System Control Technology, and third place in Transportation Modeling.