Top 13 of 2013: Television Episodes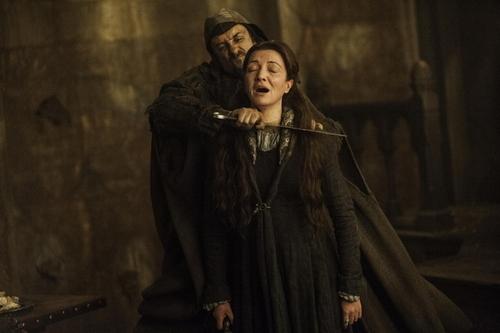 Television in 2013 had its highs and lows, from epic awards ceremonies to brutal murders to feel-good weddings. We said hello to new characters and goodbye to some of our most beloved. We laughed, we cried and we threw pillows and cushions at the television. Sometimes, it only takes one episode to make or break a show's entire season. Here are the top television episodes of 2013:
13. "The Woman in White"
Bones, FOX
The two main characters of the nine-season television show have had their ups and downs in their relationship, but this episode provided Bones fans what they'd wanted for years–a wedding. The nuptials were adorable, the dress was gorgeous and there was just enough action and adventure to spice it up, Jeffersonian style. 
12. The 67th Annual Tony Awards
Tony Awards, CBS
While not technically a series or episode, this year's gala proved why the Tony Awards are still the best awards show on television. Neil Patrick Harris returned for the fourth straight year as the show's host, and provided another spectacular opening number. We saw the adorable four stars of "Matilda," the sexy cast of "Pippin," the utterly magical costumes changes in "Cinderella"–oh, and Mike Tyson, too. Harris' tribute to Broadway stars' failures on television shows, sung by him and Andrew Rannells, Laura Benanti and Megan Hilty was hilarious, and Audra McDonald secured her position as the queen of Broadway in her mic-drop at the end of the show.
11. "Now You See Me, Now You Don't"
Pretty Little Liars, ABC Family
I'm not typically a Pretty Little Liars fan, and try to avoid going on social media sites like Twitter whenever a new episode is on. However, the summer season finale was by far the best episode in the show's run, leaving fans with a jaw-dropping twist at the end. Is Ezra really "A"? We'll just have to wait and see.
10. "You've Got Sext"
The Mindy Project, FOX
Mindy Kaling's comedy show has had its ups and downs, but "You've Got Sext" hit the nail on the head, depicting both the horrors and hilarity of sexting in its conventional, tongue-in-cheek way.
9. "WAC Pack"
Orange is the New Black, Netflix
Orange is the New Black has proved to be one of the best shows this year, tackling race, class, stereotypes and gender like no other. Set in a woman's prison, the show has surprised us time and time again with its brutal honesty, but this episode took it to another level. However, it still made for quite a few laughs.
8. "Madness Ends"
American Horror Story: Asylum, FX
The finale of the show's second season proved to be worthwhile, with a daring script and emotional performances. Jessica Lange's deathbed scene is one never to be forgotten.
7. "Hogcock/Last Lunch"
30 Rock, NBC
This beloved show came to a close, but not before going out with a bang. The episode was filled with references from previous seasons, and had the wit and charm we've all grown to love in Tina Fey's Liz Lemon.
6. "White Hat's Back On"
Scandal, ABC
This episode of ABC's thrilling drama had enough action and tension for an entire season–there's a kiss, paparazzi, an assassin and a mistress involved, and perhaps the best episode ending ever in the entire series run.
5. "Hitting the Fan"
The Good Wife, CBS
The show's stellar writing and acting has labeled it as one of the best shows on television right now, but this episode was action-packed and drama-filled, making sure to thrill audience members.
4. "Leslie and Ben"
Parks and Recreation, NBC
Television's greatest couple finally tied the knot in this episode, mixed with comedy and sweetness and everything in between. Originally written as a series finale in case NBC decided to finish off the show due to its ratings, this episode was cheesy and funny and teary from start-to-finish.
3. "Finale"
The Office, NBC
There are a boatload of fans of "The Office" within the Jefferson community, and saying a final goodbye to these beloved characters was bittersweet. Despite its label as a comedy, the series finale presented several tear-jerking moments, and the greatest "that's what she said" joke ever said on television from Michael Scott to Dwight.
2. "Ozymandias"
Breaking Bad, AMC
While the finale will always have a special place in our hearts, "Ozymandias" proved to be the baddest episode in the entire series run of the popular television show. We watched Hank and Gomey die, and wrung our hands as Walt betrayed Jesse, calling for his death. This episode is fast-paced and dramatic, and excellently written to appeal to all Breaking Bad fans.
1. "The Rains of Castamere"
Game of Thrones, HBO
Social media exploded during the second-to-last episode of the third season of Game of Thrones. For fans of the book series by George R. R. Martin, the Red Wedding was predictable, but no one will ever be able to forget the gruesome deaths of beloved characters Catelyn and Robb Stark as they were brutally murdered in cold blood. Oh, so much blood.