Victoria's Secret Fashion Show presents unhealthy message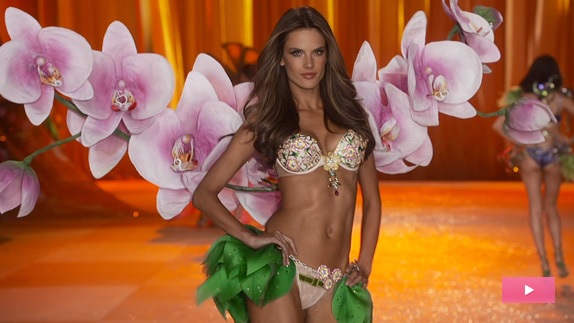 Every year, the popular lingerie store Victoria's Secret televises a fashion show that displays their top models, known as Victoria's Secret "Angels." And every year, the show succeeds in igniting a yearly debate about body image and the objectification of women as models seductively strut down the runway in barely-there lingerie.
The fashion show is popular amongst people of both genders, and last year's show was watched by 10.3 million people. It features musical talent, and this year the musical guests are Taylor Swift, Fall Out Boy, A Great Big World and Neon Jungle.
The show generally becomes more about the models rather than the clothing—if you can call it that—they wear. However, the models in the show are unrealistically thin and unattainably gorgeous, yet they are there to epitomize the standard of American beauty. Squeezed into 8-inch stiletto heels, too-small underwear and weighed down with giant fake wings, the models are generally bustier than regular runway models, creating an increased sexualized image and making the show borderline pornographic.
The problem, for the most part, does not lie in the models. Being thin is nothing to be ashamed of, just like being larger is nothing to be ashamed of. The problem is how people become that "ideal" thin, and it lies in Victoria's Secret itself for pushing an unattainable standard on women and creating an objectifying definition of what is sexy and beautiful.
Adriana Lima, a Victoria's Secret "Angel" since 2000, told the Daily Telegraph before the 2011 show that for nine days before the Victoria's Secret Fashion Show, she only consumes protein shakes and works out twice a day. Then, for 12 hours before the show, she doesn't eat or drink anything. While Victoria's Secret is busy showcasing these "ideal" women and young girls are watching the show wishing they had "Angel" bodies, US News estimates that at least 10 million Americans are estimated to suffer from potentially life-threatening eating disorders.
The Victoria's Secret Fashion Show might be fun to watch for the glitz and glamour, but the company needs to realize that their objectification of women and their unfair standard of beauty is far from a healthy message for young girls everywhere. Get some curvier models with attainable bodies, cover them up a little more rather than putting them in thin, risque undergarments, and there's a fashion show worth talking about.
The 2013 Victoria's Secret Fashion Show will be televised on CBS at 10 p.m. on Dec. 10.