Social media instigates uproar about supposed schedule changes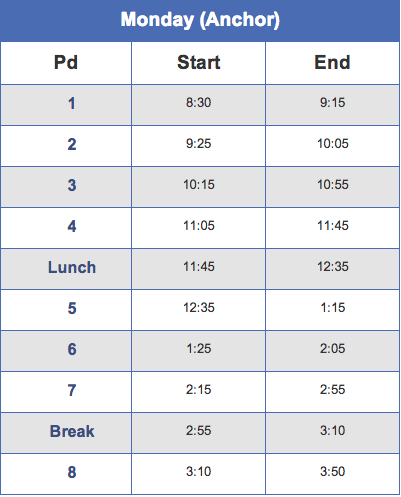 The news hit Facebook, and almost in an instant, hundreds of Jefferson students had heard.   Principal Dr. Evan Glazer supposedly supported a plan to make all Mondays telelearn days, in order to cut costs.  Except it wasn't true.
The news came as false information.  Dr. Glazer never supported the motion; instead, it was an idea proposed during homeroom at the beginning of school.  Regardless, the report spread like a fire, setting many students and their opinions ablaze along the way.
"I think that the idea exploded on Facebook because it was so bogus," senior Yana Kaplun said.  "Most of us already have strong feelings about anchor days, so the controversy over such a large change to anchor days is not hard to understand."
Much of the fret came from the possibility of the removal of the much-disliked "anchor day" schedule.  On anchor days, all seven classes, plus eighth period, run for about 45 minutes.  The short time span limits productivity and has sparked debate on the value of the days.
"Monday telelearn is a powerful money saving idea, yet it's somewhat controversial because it is taking away one fifth of class time," sophomore Joshua Holtzman said. "I personally feel that it's a good way to prepare students for online courses in college, save money, attract incoming freshmen, allow for the construction to end early and give students a unique opportunity."
However, the change will not be coming in the near future.  According to the Student Government Association president, senior Joey Valery, telelearn Mondays would only happen if Jefferson's budget situation were incredibly dire.  Additionally, the approval process would take months of time and many studies to see effectiveness.
"I dislike the idea of telelearn Mondays because I feel that there is a large chance they would replace meaningful learning opportunities with busy work. It would also eliminate an eighth period and make it difficult for athletes with after school sports and working parents to make it to Monday practices," Kaplun said.