Statewide elections highlight candidates' polarity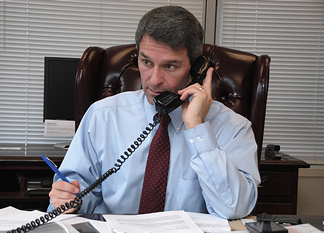 In the next week, Virginians will be headed to the polls.  Most states around the country have very few officials to be elected in this off year.  Virginia, however, will be electing its new governor, lieutenant governor and attorney general.
Since Virginia has a one-term limit for statewide office, incumbent Bob McDonnell will not be able to run.  Aside from a few donor scandals and women's rights issues, McDonnell has been relatively low key and might be able to win the governorship once again.
However, two major party candidates, Democrat Terry McAuliffe and Republic Ken Cuccinelli, the current attorney general, as well as Libertarian Robert Sarvis are vying for the position.  None of the candidates are particularly strong.  McAuliffe has been criticized for business scandals.  Cuccinelli has been heavily scrutinized for his extreme stance on social issues.  Sarvis, while polling very well for a third-party candidate, has been called out for a lack of experience.
In the polls, McAuliffe is winning by a large margin – and that's a good thing.  While most Democrats agree he isn't the best candidate, he certainly would bring more good to the commonwealth than the others would.
McAuliffe holds a strong pro-business record and pro-women and –LGBT rights agenda.  While McAuliffe does own guns, he is for stricter gun control.  All that aside, McAuliffe is not as extreme as Cuccinelli and does not appear to be willing to put his own agenda ahead of that of the commonwealth.
The race for lieutenant governor creates a similar situation.  The Republican, E.W. Jackson, is an inflammatory candidate who spends too much time calling out non-Christians and homosexuals instead of focusing on Virginia.  The Democratic candidate, state senator Ralph Northam, is much more moderate and connected with voters.
In the polls, Northam is ahead of Jackson by a double-digit amount – he is likely going to win.  Much of this lies in Northam's concern with the citizens of Virginia.  He supports marriage equality and an expansion of Medicare, both of which are contentious issues.  Fiscally moderate, Northam wishes to focus on the creation of jobs.  Also important for the commonwealth, Northam supports environmental awareness as well as improving education.
Last and most intense is the race for attorney general.  Most polls currently have state senator Mark Herring, a Democrat, only a few points ahead of his Republican contender, another state senator Mark Obenshain.  Quite honestly, Obenshain appears to be a decent candidate at first glance – he wishes to improve ethics reform and fight human trafficking as well as elder abuse.
Underneath the surface, Obenshain is a clone of Cuccinelli.  He does not have a strong record on protecting women's rights.  One of the most extreme viewpoints in politics is Obenshain's that would require a woman to report a miscarriage to the police within 24 hours.  Instead of focusing on real criminals, Obenshain seems to just want to bring his social agenda into an office where it has no business.
On the other hand, perhaps the strongest member of the Democratic is Herring.  Aside from the good that Obenshain wants to do as attorney general, Herring is a strong supporter of women's rights, civil rights and improving transportation.  All of this can be seen during his tenure as state senator, where he worked in a bipartisan manner to improve conditions for his constituents.
At this point, it is looking as if Virginia may support at least two Democrats, if not all three.  The state is changing, albeit slowly, and the radical Republican candidates are not helping their cause.  Either way, Virginians need to get out and vote on Tuesday, seeing how important the election is and how it will dictate the next four years.