Jefferson seniors apply to foreign universities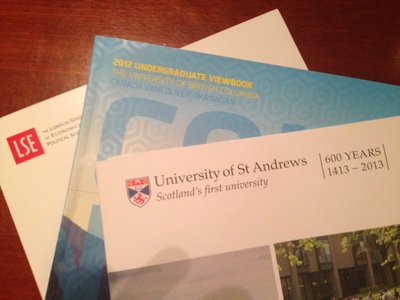 As the early application deadlines loom over Jefferson students, most face anxiety over finish their applications.  Add to that the issues with the new version of the Common Application, and the beginning of November seems to haunt Jefferson seniors.  However, some students have more applications to worry about – applications to foreign colleges.
Most Jefferson graduates will end up attending college in the United States.  That said, there are some that choose to study abroad for the whole time.  Students who choose to study at foreign schools do so for myriad reasons.
"Attending university in the United Kingdom is actually cheaper for me than going to, for example, University of Chicago. I applied for medical programs, and there it would only take me about six years in total compared to the approximate ten years here," senior Meena Nayagam said.
The most common countries for Jefferson students to apply to colleges in are Canada and the UK.  The application process for popular Canadian schools – such as McGill University and the University of British Columbia are relatively similar to non-Common Application schools in the United States.
"I'm applying to McGill because it has an outstanding academic program and its location in Montréal would give me the opportunity to become fully fluent in French," senior Nadège Aoki said. "The best thing about the process is that there are no essays; you just send in your grades and test scores and that's it."
Some UK schools are available on Common Application; however, the overall process is much different.  The Universities and Colleges Admissions Service (UCAS) of the UK is similar to the Common Application.
UCAS requires a personal statement, test scores, and one teacher recommendation.  Interviews and transcripts are by choice of the school.  Additionally, UCAS only allows application to five programs, with a maximum of two at any given school.  Again differing from universities of the US, British school require that one must apply directly to their intended major.
"I would certainly like to end up studying abroad.  While I love many of the schools in the U.S., the university lifestyle in the U.K. just has an inexplicable draw to it," Nayagam said.