"The Tomorrow People" shows promise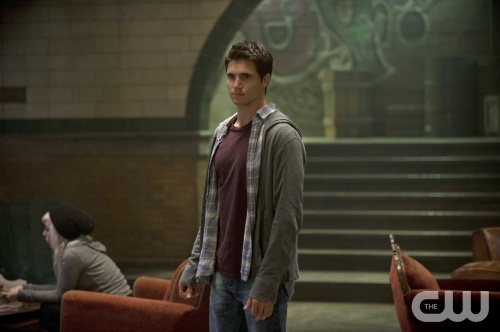 Premiering on The CW Television Network on Oct. 9, "The Tomorrow People" took off with their first episode of the season. Even though the show is a remake of a British show from the '70s about teenagers who develop superpowers fighting against a powerful organization that wants to eliminate them, this new show has a lot of promise.
This update features Stephen Jameson (Robbie Amell), a teenager living in Brooklyn with his mother and younger brother after his dad skipped out on them years ago. Stephen is going through a rough patch: he is disliked at school, he sleepwalks on a regular basis into his neighbor's apartment who is now threatening to call the cops, and he hears a mysterious woman's voice in his head. Even his mother is having a tough time as a result of taking extra shifts to pay for the mounting bills for his medication from all of his doctors.
Early on in the episode, Stephen is dropped into a world where a battle is ensuing between people like him, called the Tomorrow People, whose powers include "the three 'T's'" of teleportation, telepathy and telekinesis, and a shady government agency named Ultra, run by Dr. Jedekiah Price (Mark Pellegrino), who has every intention to wipe their species off the map.
This first episode was reminiscent of Star Wars and other similar story lines in which the main character goes through the hero's journey from troubled teen to reluctant "chosen one" in a short time period. Not only is Stephen a member of the so-called Tomorrow People, but he is also the person who will lead them to their victory against Ultra in the coming years.
Stephen, however, is very wishy-washy for most of the first episode. He spends half of the episode arguing with the Tomorrow People and saying he wants no part in this war, and the other half defending them fiercely to the likes of Dr. Pierce. It is only when they mention that his father was once their leader, that Stephen realizes his father's true intentions in leaving them, and how these people are relying on him to lead them just as his father did before him.
As his powers continued to grow stronger, Stephen is forced to choose sides as Ultra discovers his existence and start to track him down. He is faced between the tough decision of fighting alongside the Tomorrow People or joining Ultra and discovering more about his father and why he left him.
By the end of the pilot, it seemed that Stephen had finally come to a decision that points towards the direction that the show will most likely go in the first few episodes at least, but his decision seems to be opposite of the natural progression of the character. Perhaps the reason for his decision shall be cleared up in the coming episodes.
The special effects, especially the teleportation, were incredibly well done. The technique was not overused, there were no blurry camera shots, and it was cleverly staged. This definitely added to the episode by creating an interesting fighting strategy different from what is normally seen on television and in the movies.
Overall, the pilot episode does a great job of setting up the world and the characters quickly in order to start progressing the story forward. There are even a few encouraging moments that promise a more complex plotline for the coming season.
Whether Stephen will continue on the path he is currently taking, or finally come to his senses and make the correct decision, the coming episodes in this season will hopefully provide answers to many questions raised by the pilot episode. Either way, this episode shows that this new television series has a lot of promise for the coming season.