Football defeats Wakefield in Homecoming game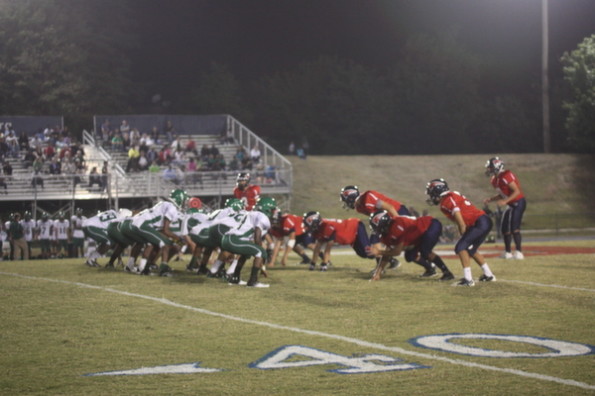 After suffering a devastating loss to Falls Church High School the week before and following a rousing speech by coach Michael Auerbach during the Homecoming pep rally, the varsity football team fully came back to defeat Wakefield High School during the annual Homecoming game, with the score coming down to 22-7.
Despite a scoreless first quarter, the Colonials took the lead from the Warriors in the second quarter, with senior Ben Carniol scoring a field goal from 26 yards out. In the third quarter, senior Nathan Kim scored two touchdowns, one of which followed a 14-yard scamper, while senior Tim Zhong added yet another touchdown to the scoreboard in the fourth quarter, with an extra point scored by Carniol. The Warriors scored a touchdown late in the fourth quarter.
"We won and got the job done but we didn't really feel like the first half was very representative of our team," senior Philip Yu said. "In the second half, we started playing more like ourselves."
The defense was incredibly strong and consistent throughout the game, keeping the Warriors out of the end zone until the very end of the night. On the offensive side, Kim was a particular standout for the Colonials, rushing a total of 270 yards.
"Our defense kept us in the game, especially in the first half when we only scored three points," Carniol said. "Overall, it was a strong team effort and a good win, and we really fed off of the energy of the homecoming crowd."
The game was themed as a "White-Out," with students sporting white clothing and paint. During half-time, floats from each class were presented, and seniors Ben Andre and Liesl Jaeger were crowned Homecoming King and Queen.
"The white out seemed to make fans especially ecstatic as the evident unity accentuated our school pride," senior Luke Barbano said.
The victory bumped up Jefferson's season record to 2-1, and the Colonials travel to Marshall High School next week, where they will take on the Statesmen. Seven more games remain for the Colonials in the season, three of which will be played at home.
"The game was an awesome way to finish off the week, and seeing all the classes mixed together in the stands rather than separated in the gym was a nice change of pace," senior Joey Valery said. "We had spent all week in competition, it was great to finally come together as a school and watch our guys crush Wakefield."