Innovative "Orange is the New Black" dazzles viewers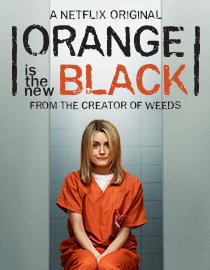 Hang on for a minute...we're trying to find some more stories you might like.
"I have been here for less than two weeks. I have been starved out, felt up, teased, stalked, threatened and called Taylor Swift. So will you please just cut me some slack?"
And so begin the struggles of Piper Chapman, the title character of this summer's prison comedy-drama, "Orange is the New Black." A new installment in Netflix's original programming campaign, the provocative yet refreshingly original "Orange" instantly became a target for obsessive binge-watching. The highly acclaimed first season is following on the heels of shows such as "House of Cards" and the fourth season of "Arrested Development," both of which have garnered critical acclaim.
As the series opens, Chapman, a recently-engaged, upper middle-class white woman, awaits her incarceration for a crime that she committed 10 years ago: laundering drug money for lesbian ex-girlfriend. However, used to a life of privilege and luxury, Chapman is wholly unprepared when she is brutally thrust into the dynamic and unsettling prison environment.
As Chapman fights to adjust to the harsh realities of prison life, her story becomes entwined with those of her fellow inmates. It quickly becomes clear that the focus of the show is not just on Chapman, but rather on all of the inmates' relationships and interactions, as well as the poignant backstories leading up to their incarcerations.
Jenji Kohan, a seven-time Emmy Award nominee, truly created a masterpiece with "Orange." The storyline and characters for "Orange" are based largely on the experiences of Piper Kerman, who also wrote a memoir by the same name. Her autobiography rapidly climbed the charts after the series release and is currently at number two on The New York Times' bestseller list.
A risqué series, "Orange" is certainly inappropriate and offensive for some audiences due to extreme profanity and graphic sexual scenes. Most of the episodes are peppered with colorful language and varying degrees of nudity. However, "Orange" masterfully handles delicate issues such as racial tensions, sexual identity, and inner darkness through delightfully witty dialogue.
Kohan also crafted the series so artfully that the storyline manages to swing from dark to uplifting in a heartbeat. Similarly, no character's role is set in stone; each individual vacillates between being vilified and victimized.
I was astonished that although the vast majority of the actors do not have big names (yet), each does a terrific job in bringing their character to life. Although it is impossible to choose one actor as my favorite, Uzo Aduba, who portrays the outrageous yet vulnerable Suzanne "Crazy Eyes" Warren, is particularly noteworthy, as is Danielle Brooks, who never hesitates to deliver side-splitting lines as the vivacious Tasha "Taystee" Jefferson.
Nevertheless, despite the compelling individual performances, what really makes "Orange" so unique is the collective display of talent from the cast. Together, the ensemble of predominately female characters paints a striking picture of prison life.
Unfortunately, due to the size of the cast, it was often difficult to keep track of each character's backstory, which were told through flashbacks sprinkled throughout the series. On the other hand, several of the most memorable characters haven't even been given backstories yet – an imbalance that will hopefully be corrected in the next season.
"Orange is the New Black" sends viewers on an emotional rollercoaster through the minds of some extraordinary women. The 13-episode series ends on a violent cliffhanger, of which the subsequent consequences won't be revealed until the season two debut in 2014. In the meantime, it seems that I will simply have to settle for rewatching the first season and impatiently counting down the days until the next season's premiere.