Jefferson adds broadcast journalism to productions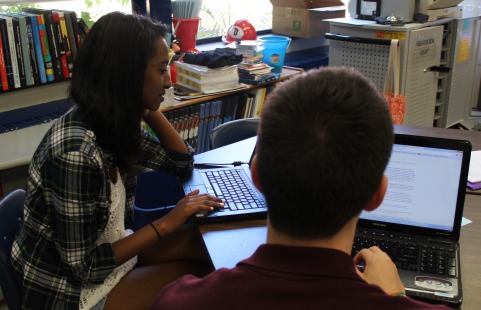 Since the Communications senior technology laboratory's change in focus, Jefferson has lacked a true audio/visual news source.  This year, however, Techniques and tjTODAY adviser Erinn Harris is leading a class of broadcast journalism.  And although there are only two students in the class, Jefferson's broadcast journalism program is going to be heard.
"I'd rather have a big class in some ways, but having a small class is great, especially when it's with Ricardo," senior Sib Shewit said.  "For the first year it's better to be able to see what happens, and Ms. Harris is very supportive of that."
Right now, the class is combined with the other journalism classes, and is working with the Journalism 1 students on the basics of journalism, such as issues with the First Amendment.  Throughout the year, Shewit and fellow senior Ricardo Tucker will be working on projects such as podcasts and videos.
"Most of the broadcast content that Sib and Ricardo create will be on tjtoday.org," Harris said.  "I see broadcast as being part of tjTODAY, but also as a separate entity."
As the school year progresses, the two broadcast students are likely to be putting up work on a regular basis.  This will provide Jefferson students with an innovative way to stay current on student life and news. Additionally, Harris hopes that the projects the class undertakes will increase interest and will lead to a completely separate class of broadcast journalism next year.