CoEd golf team looks forward to a successful season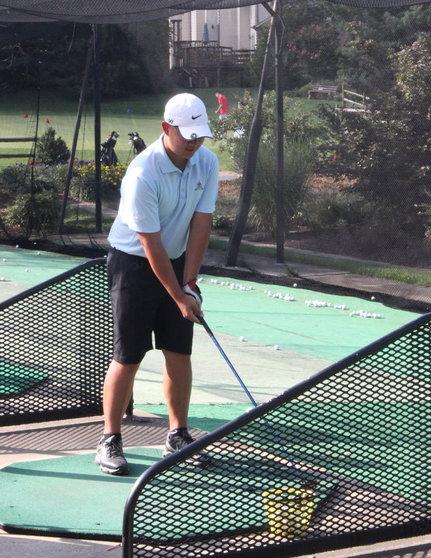 Although other sports are winding down their summer training, the CoEd golf team has already kicked off the fall season with a strong start since mid-August and is nearing to a close with their last match on Sept. 11.
Players are anticipating a good season after winning matches against Fairfax, South Lakes, McLean and Langley High Schools, as well as having a team filled with strong members, such as junior Julie Luo and sophomore Nathan Chuwait, who both claimed District Champion titles for the past seasons.
"TJ golf has always faced challenges with recruiting enough players or facing difficult opponents, but this year, I believe that we're the perfect team," said senior Chris Prak, who is also co-captain. "When I first started, we had a season of 2-4 and we came in seventh place during districts. However, our record has greatly improved and the team as a whole is playing a lot better."
Despite the improvement seen for the past few seasons, one of the goals this season is to maintain consistency during matches.
"We did well as a team last year, but it was hard to get four consistent players to shoot low scores," Luo said.  "Nathan and I could consistently play well, but sometimes, the other team members struggled. This year, I hope that we have better luck in being able to post four good scores per match."
However, as one of the new changes this year, the team is trying to plan more practices since they are limited to only one practice per week at the Pinecrest Golf Course.
"This year, we are trying to practice at other places and get a feel of playing at different courses, including Greendale, where the Conference Tournament is going to be held this year," Prak said. "Pinecrest is a very short course so to some players, it suits them well, but when we go to courses like Army Navy, it can be a struggle."
The team also faces new competition after Jefferson's move to a different district.
"Right now, we are facing the unknown as far as the new conference is set up," Myers said. "We are leaving behind Madison and Langley High Schools in the old Liberty District for this new format with Edison, Robert E. Lee, Marshall, Falls Church, Washington and Lee, Mount Vernon and Wakefield High Schools. I won't miss Langley or Madison. This is a new opportunity for us to establish our own identity."
The players are working hard to win at the Conference Tournament, qualify for regionals and even have a shot at states.
"This year, we have established a team mentality stronger than any other year I have been on the golf team," senior J.C. Panagides, one of the co-captains, said. "'Practice together, play together, win together' seems to be the mantra of TJ Golf this season."
The next meet for the team will be against Stone Bridge High School at the Belmont Country Club on Sept. 10.