Football transitions from summer training to fall season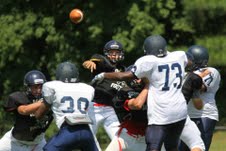 After training intensely for several weeks during the summer, the Jefferson varsity football team put their skills to the test by taking on Washington-Lee High School on Aug. 29 for the last scrimmage before the first game of the season.
Since the arrival of August, the team has held Two-A-Day practices, in which the players practiced for about four hours a day. Due to the return of teachers on Aug. 26, the players have modified their practice schedule, practicing in the afternoon for around two hours and many of the players have also been focusing on weight-lifting and endurance training.
"I am taking football much more seriously this year because I made varsity," sophomore Andrew Howard said. "I have been studying my plays and defenses and have also improved on my speed and endurance over the summer."
According to Howard, many other members of the team have also been working hard over the summer to prepare for a competitive fall season.
Jefferson only has one more scrimmage against JEB Stuart High School before the regular games begin. The team already suffered a defeat to Potomac High School on Aug. 23, losing by only two touchdowns. However, the team is maintaining a positive attitude about their upcoming season.
"I feel confident in the team's ability to win games, and I think we will have a positive record," Howard said. "Either way, it comes down to how the team executes on the field."