Volleyball team looks forward to an outstanding season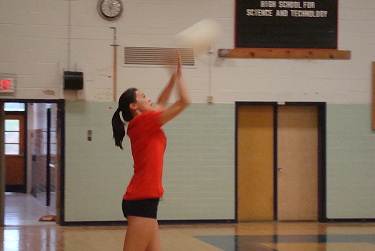 Replete with enthusiasm, energy and ebullience, the Jefferson volleyball team marked the beginning of its new season in mid-August.
"It is going to be a great season," said varsity co-captain Care Shoaibi. "We have a lot of good and experienced players who know what they are doing."
The varsity team started its first practice of the season on Aug. 17.
The team's practice routine begins with an hour of pre-practice workouts at the weight room, where the players strengthen their shoulder and knee muscles to prevent possible injuries.
The practice continues on with a two-hour session focused on training specific muscles used during the game. The rotator cuff, a group of muscles located around the shoulders, is one of the targeted areas that the team strengthens.
"Every exercise done is specialized to the sport," said varsity coach Helen Smith.
From Aug. 30 to Aug. 31, the varsity team will be joining 16 other high schools in an annual NVVA Invitational Tournament at the Virginia Volleyball Center. Jefferson will be competing against Robinson, Washington- Lee and West Springfield.
"We do not know a lot about West Springfield and Robinson, but I don't see any reason that we can't defeat them," Shoaibi said.
The junior varsity team has also begun their training in August. Their two-hour session includes workouts, drills and a scrimmage.
"We do a lot of workouts," said junior varsity co-captain Catherine Im. "We focus on skills needed in game play, such as hitting, serving, passing and setting."
With two freshmen students joining the team this season, Im aims to establish a cooperative and amicable environment for all of the members.
"I hope that we can grow together as a team," Im said. "I want to do a better job of keeping everyone inside the family."
For the varsity team, Shoaibi expressed her determination to display better results in districts this season.
"We haven't performed well in districts in the previous years, but this year, I think that we can perform better," Shoaibi said.