TJ Quiz Bowl takes third place in 'It's Academic' finals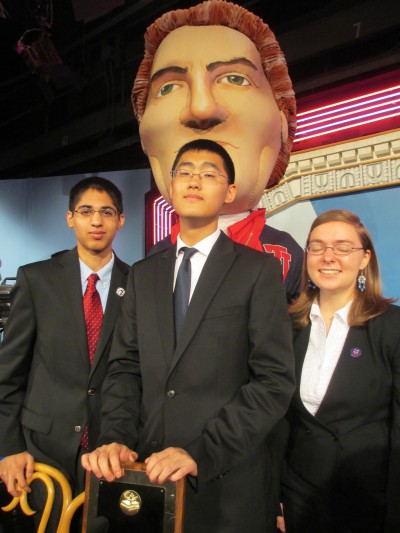 The outcome wasn't certain until the final 20 seconds when Blake H.S. pulled away from Jefferson and Churchill to win the Greater Capital Area "It's Academic" final competition.
Cheered on by a large crowd of supporters, the team, led by seniors Raynor Kuang and Sarah Eltinge and junior Sid Verma, stayed in the mix until the final seconds of the lightening round. Then, Blake pulled away to capture the win.
On hand were Principal Evan Glazer, coach emeritus Carolyn Gecan and sponsors John Laffey and Jennifer Seavey. Math teacher Mike Auerbach and social studies teacher Scott Campbell also came by to support the team.
Each of the non-winners will receive a check for $2,500 to go to their respective schools, and Blake will take away $5,000.
"It was exciting to see Jefferson at the finals for the first time in our school's history," Seavey said. "The prize money will help compensate for some of our fundraising losses due to the renovation."