Jefferson's FIRST Robotics Team travels to Chesapeake Regionals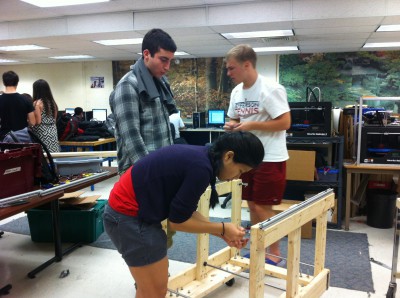 The FIRST Robotics Team traveled to the Baltimore Convention Center on April 11to participate in the FIRST Robotics Competition (FRC) Chesapeake regional event. There, they competed in a series of events where their robot had to complete specified tasks to earn points.
The team consists of over 25 sophomores, juniors and seniors. Sponsors Prototyping and Engineering lab director Clint Behling and Automation and Robotics lab director Charles Dela Cuesta, along with mentors from local companies who help guided the team, were present at the event with the students.
This year's season officially began Jan. 5, but the team began practicing at the beginning of the year using the previous year's challenge. Teams were allowed a mere six weeks, from Jan. 5 to Feb. 19, to build their robots from kits issued by FIRST Robotics.
The team progressed beyond the qualifying matches and into the second round of eliminations where they were defeated. This is the farthest a team from Jefferson has advanced to date.
"The FRC program gave me a way to understand what it really meant to be an engineer – all the way from designing, to prototyping, to building, finally to testing and then back to tweaking," junior and team member Dhruv Gaba said. "It was one of the best experiences I could ask for."