Boy's team wins first game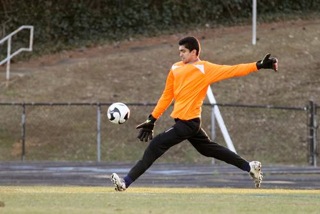 The boy's varsity soccer team won their first game of the season against the Annandale Atoms on April 15.
The Colonials started the game with a quick and efficient attack.
Junior midfielder Andrew Fountain crossed the ball across the face of the goal to senior midfielder Alex Sands, who scored in the upper-left corner.
Within a minute of the kickoff, the Colonials had a 1-0 advantage.
The pressure continued throughout the first half, due in large part to the throw-ins of senior defender Nick Johnson.
"Nick's throw-ins are always a threat against any team," said senior midfielder Chris Hughes. "Although our team was not able to put one of Nick's throw-ins into the back of the net, our opponents were forced to clear the ball back to our team, otherwise they would be in for Nick's troubling specialty."
The Colonials rolled into halftime with a 1-0 lead.
The Atoms pummeled the Colonials' defense in the second half, but were repeatedly denied by sophomore goalkeeper Nikhil Gupta.
"Nikhil came up huge for us tonight," said sophomore defender Jackson DuBro. "His saves were the key to our success."
"Although our midfield was a bit disorganized at times, our back line was solid tonight," Hughes said.
"We played hard for all 80 minutes," DuBro said.
The game concluded with a score of Jefferson 1, Annandale 0.