GLI design for cultural exchange project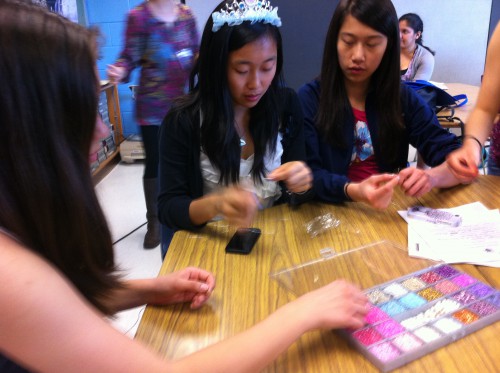 Girls stood around tables laughing and chatting as they threaded colorful beads onto short lengths of string. The students are all part of Girls Learn International (GLI), a national organization with a chapter at Jefferson that meets during 8th period.
On April 12, GLI members created necklaces and bracelets that will be sent to teenage girls at their partner school in Tanzania, Emusoi Centre, as part of a cultural exchange project.
"We chose to do beadwork as beads have a strong cultural significance for the girls there," senior Stephanie Levin said.
Emusoi Centre is unique in that it pays for the education of all the girls that attend. This is a huge service to the community, as many girls in Tanzania never have the option of attending school. They are often required to stay home and work or are married off at a young age.
"We want to support girls who don't have access to the same opportunities we see here in America," said GLI president and senior Mary Kim Weidman.
The club will send books collected during Service Week and notes to the girls along with the necklaces and bracelets.