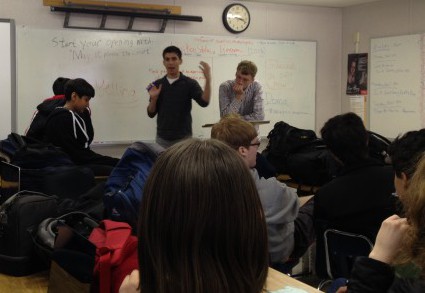 As the country discusses the Defense of Marriage Act (DOMA) and the issue of same-sex marriage, members of our own Mock Trial club have started to debate the issues as well.
At their last meeting, Mock Trial club officers briefed members on the details of the Supreme Court case United States v. Windsor. Juniors Zartosht Ahlers and Jamie Simon, acting as the plaintiffs, and sophomore Vikram Sardana and freshman Rushi Shah, acting as the defense, then argued the case.
Each week, Mock Trial club chooses a new controversial case to debate. At the beginning of each meeting, a case summary is given. Student members then write rebuttals focusing on moral and ethical arguments. Afterwards, debaters bring their cases to the officers who act as Supreme Court justices and preside over the debate.
"It is a great place to hang out and go with your fellow classmates to debate about these heavy, moral issues" said president and senior Kevin Xu.
Story continues below advertisement