Students officially join tjTODAY staff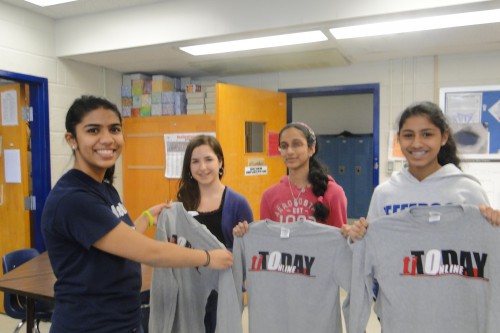 Three new members were welcomed to the tjTODAY staff. Freshmen Sruthi Jayaraman, Sara Warrington and Anshula Rudhraraju completed the requirement of posting 10 articles to the online newspaper and became full-fledged members on March 20.
Throughout the year, these students could be found reporting for the newspaper every Wednesday and Friday B blocks. With topics ranging from movie reviews to pep rallies, these students have written about nearly everything.
"I joined the online newspaper at the beginning of the year because I have always had a passion for journalism," Rudhraraju said. "Joining the eighth period staff seemed like a good way to get more experience. I am really glad to be a part this club."
Joining the online staff had a couple of immediate rewards. Along with a welcome celebration, the students received official tjTODAY online T-shirts. Some of them may join the print production staff next year.
Senior Thrisha Potluri, the managing editor, mentored the online reporters along the road to becoming staff members. She has worked with the students since the beginning of the year.
"I like working with Thrisha" Jayraman said. "She is a great mentor."