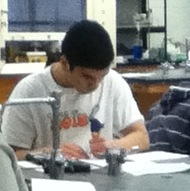 During eighth period on Friday, 14 students tested diligently for the Chemistry Olympiad National Exam, which will be held in April.
On March 1, sophomores Janice Ong, Winston Ou, Lucas Lin, Jeremy Nathan, Arun Kannan, Luka Jelenak and Matthew Barbano; juniors Emily Schneider, Aditya Chaudhry, Dillan Chang and Andrea Li; and seniors Raynor Kuang and Andrew Tao took the semifinal exam, in order to compete for two seats at the national exam.
These 14 students were the top scorers of the local Chemistry Olympiad Exam and just took the semifinalist test after weeks of preparation.  To prepare, they reviewed almost all of the past examinations and as many chemistry topics as possible.
"The local as well as this semifinal exam were both very complicated because of the many questions that had to be done in so little time," said sophomore Matthew Barbano. "But it was still a lot of fun to see how much chemistry I knew and if I could apply it in a timed situation."
The test consisted of 60 multiple-choice questions that tested a variety of difficult chemistry topics. Many of the questions also asked for an understanding of math in chemistry.
"I'm just glad I was given this opportunity to participate since I enjoy chemistry and would like to pursue it," Barbano said.
Story continues below advertisement