Virginia gun lovers stand firm to resistance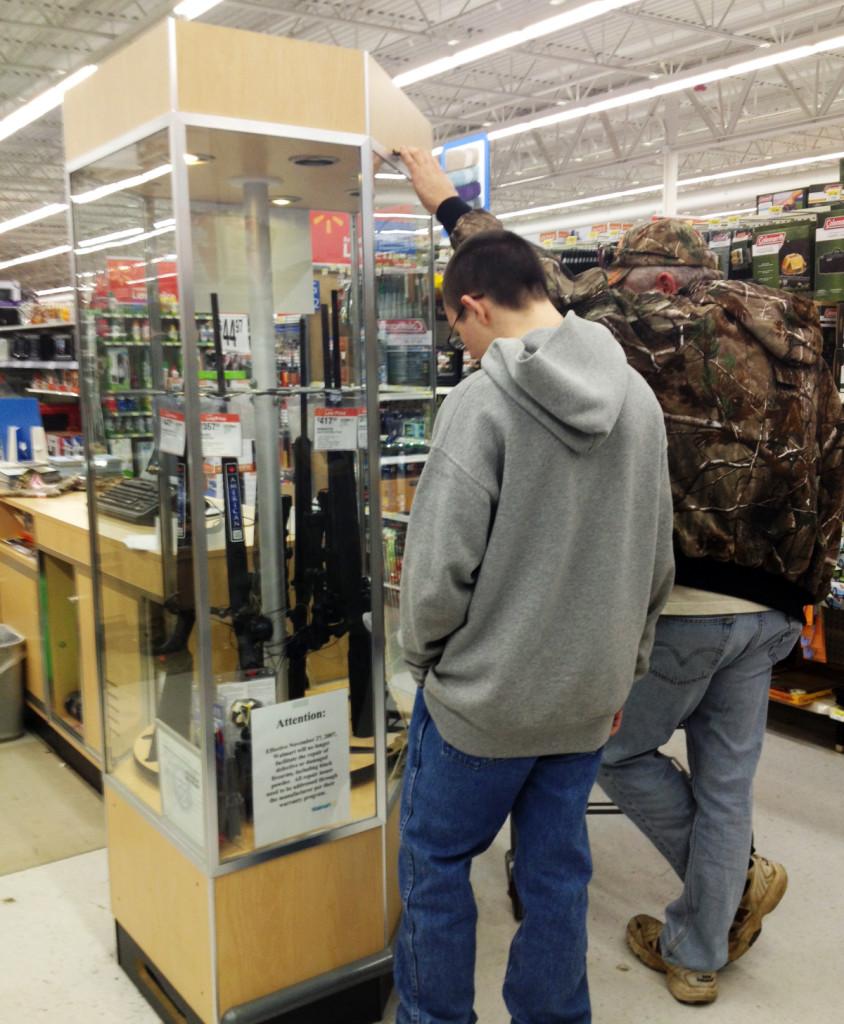 I walked into the sporting goods section of the Wal-Mart in Warrenton a week ago, intent on comparing gun purchase procedures to those I'd seen at the Chantilly Expo gun show I'd visited on Feb. 8.
Alongside the aisles filled with baseball bats and fishing supplies, the Wal-Mart had an aisle and counter dedicated to firearm and ammunition sales. I noted a father instructing his young son on the differences between one rifle and another, the boy mesmerized by the process.
To buy a firearm, a customer needs only two forms of identification, and a background check is conducted in the store. If you don't have a criminal record, you're good to go.
Such a transaction is even quicker at gun shows, where no background checks are required. When I attended the Nation's Gun Show in Chantilly, I saw someone hand over a voter registration card and drivers license to a vendor, and leave with newly purchased handgun.
Easy access to firearms has some legislators concerned. However, as the 2013 regular session of the Virginia General Assembly came to a close on Feb. 23, many of the proposed gun regulations did not make it past committee.
Earlier proposals to limit the access to military-style assault weapons and high-capacity ammunition magazines were all rejected in the Va.Senate. A bill providing private sellers at gun shows the option to conduct background checks also failed to pass earlier this month.
"Republicans and Democrats are not willing to vote on the issue," Del. Bob Marshall, from Virginia's 13th district in Manassas Park, said.
Compared to states such as New York, which recently banned assault weapons and placed restrictions on weapon sales to the mentally ill, Virginia laws have remained unchanged. Current laws allow persons over the age of 18 to purchase firearms after a criminal check has been conducted. No permits or licensing is required, except for purchases of concealed-carry weapons.
Opinion on gun control varies here at Jefferson. Many students are concerned that civilians can access military-style assault weapons.
"The Second Amendment was written in the 18th century, when the most powerful weapon was a musket," senior Michael Cooper said. "Now there are assault weapons that are much more powerful than the 18th-century weapons originally protected by that amendment. Firearms protections are outdated and in need of an update."
Others believe that targeting only one class of firearms does not fully address gun violence.
"The process of eliminating high-powered rifles mitigates only large scale catastrophes. All other incidents of gun violence are done through small firearms," junior Daniel Stiffler said.
"I think it might be possible to regulate semiautomatic weapons, but because of the number of guns in the U.S. currently, I don't think legislation that has been put forward is going to do anything to affect how guns are used in this country," senior Pierce Eggan said.
Some believe that background checks are actually at the heart of the issue.
"I do think regulations on who can buy a gun need to be tighter," sophomore Paris Mitzelfeld said. "Background checks are most important. Something definitely needs to be done to restrict criminals and the mentally ill from buying guns."
Still, there is not always a correlation between increased regulations and decreased violence. Some don't believe additional legislation is the solution.
"If you look at the cities with the most restrictive policies and compare them to cities with a high crime rate, like Chicago, you'll find that more restrictions do not reduce the murder rate," said AP U.S. History teacher Tom Sleete, who is also a member of the National Rifle Association (NRA).
In response to recent shootings, gun sales and attendance at gun shows in the state hiked, as many gun owners fear firearms are in danger of being regulated. At NOVA Firearms, a Falls Church dealership, sales of AR-15 assault weapons shot up in recent weeks. The AR-15 was the weapon used in the shootings in the Sandy Hook Elementary School massacre, and owner of NOVA Firearms, Dennis Pratte, believes there is a connection.
"We are selling 10 times the number of firearms we sold a year ago," Pratte said. "After the shooting in Connecticut, our sales spiked when both Republicans and Democrats alike saw their government trying to take away their Second Amendment freedoms."
Many people have also joined the NRA in recent months. Almost half a million new member joined the roll of the NRA in the past eight weeks, according to NRA membership representative Kaitlin Danals.
"Membership has been up since President Obama's reelection because of his stance on gun rights and because gun control is a bigger issue now," Danals said.
Sophomore Nicholas Hougland's father joined the NRA a few months ago.
"The NRA is a helpful organization to gun owners because it teaches responsible gun use, and how to live safely with guns in the house for defense purposes," Hougland said.
For Hougland and his family, the real debate is over constitutional rights.
"Definitely now is when rightful gun owners need to protect the Second Amendment. These national events affect and mobilize legislators more, but the small events will still happen regardless of restrictions," Hougland said.
Hougland's family owns a gun, but he believes there should be more restrictions to keep guns in the right hands.
"There is not very much security to make sure guns don't get in the hands of criminals or the mentally ill," he said. "But, in general, I don't think having a gun in a home is a problem as long as the gun is kept in a safe, protected place."
Legislation proposed in the 2013 Virginia General Assembly session focused on who should get access to a firearm. Though the bill to increase the use of background checks at gun shows did not pass, it was followed up by a bill to eliminate "straw purchases," which is when people illegally purchase firearms on behalf of those who are not allowed to own them, a more serious offense. This bill was approved at the end of the legislative session.
Wendy Barbe, a gun safe dealer who was a vendor at the Nation's Gun Show, believes additional security at gun shows specifically is unnecessary.
"Criminals generally stay away from gun shows, and the police generally catch major problems," Barbe said. "I once saw around 15 guys get taken out of a show because they were involved in straw purchases. I don't think additional security is necessary."
Another proposed bill would prevent Virginia officials from enforcing federal gun laws. This bill also failed in committee.
In FCPS, more work is being done to support students' mental health and to spot students who are a threat in advance.
FCPS high schools may be installing electronically locked doors. Such systems are already standard at county elementary and middle schools. A pilot program was in place at Herndon High School last year and according to FCPS Security Coordinator Jim McLain, many area high schools are interested in the system.
"The pilot program worked well at Herndon High School," McLain said. "Many other schools have been interested in the system, following the shooting in Newtown, Conn."
The electronic doors are not likely to be immediately installed at Jefferson due to the upcoming renovation. However, cameras will be installed to secure the school during the construction.
"At Jefferson, cameras will be installed at the outside modular buildings first. We'll eventually migrate them onto the school building as the renovation progresses," McLain said.
While Jefferson hasn't been identified as a high risk environment for gun violence, risk assessments have been used in the past to study students who may pose a threat to the student body.
Jefferson also has a full-time School Resource Officer (SRO), Mark Harrington. Harrington was given the floor plans of Weyanoke Elementary School, after the shooting at Sandy Hook Elementary School. He believes students should also have a role in ensuring security.
"The best thing students can do to help is to not open doors to strangers and to observe strange individuals on school property," he said. "I find doors propped open everyday. Students need to help keep schools secure."
Harrington has posted a threat information hotline on signs around the school. Students are to text (703) 380-1350 in case they see a student or other person who poses a threat to the school community.
"Students need to take proactive measures. It's OK to talk to the cop or security. We need to know before something bad happens," Harrington said.
Increasing the number of armed police officers in schools has become a focus in surrounding counties, but FCPS already hires one SRO per high school.
In Virginia, legislation to ensure school security gained popularity towards the end of the session. A task force appointed by Gov. Bob McDonnell endorsed legislation that would allow for the hiring of more SRO's, provide grants for security equipment improvements, require lockdowns and the establishments of better threat assessment systems. These measures were later approved by the General Assembly.
Virginia lawmakers will be focusing more on gun legislation in January of next year.
"What I want to see is more people trained to use guns in schools because right now, there are not enough people who can respond in a crisis. We can't just wait for the police to come," Marshall said.
(This article originally appeared in the February 28, 2013 print edition.)