TJ Quiz Bowl takes States again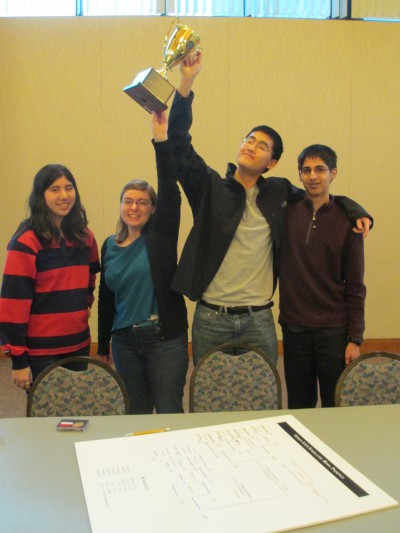 The air was taut with anticipation as the two top Governor's Schools' scholastic bowl teams went head to head in the final round of the VHSL state championship round at William and Mary on Feb. 23.
After an earlier contested win, Jefferson team members seniors Raynor Kuang and Sarah Eltinge and juniors Nadedge Aoki and Sid Verma knew the final victory wouldn't come easy.
"TJ has been rivals with Maggie Walker, so we respect them deeply and know how good they are.  It was a pretty easy victory last year, but they'd been missing players then and have gotten much better as well this year," Kuang said. " I knew for a fact they were good enough to beat us after the trouncing they gave us at a recent tournament."
In the end, the 245-175 win didn't completely reflect how difficult the win was to come by, but the books were closed. Now, Kuang and Eltinge head off to college with good memories in hand.
"A moment I particularly remember was from 2011, at Nationals in Atlanta when I was part of a B team that upset our own A team," Kuang said.