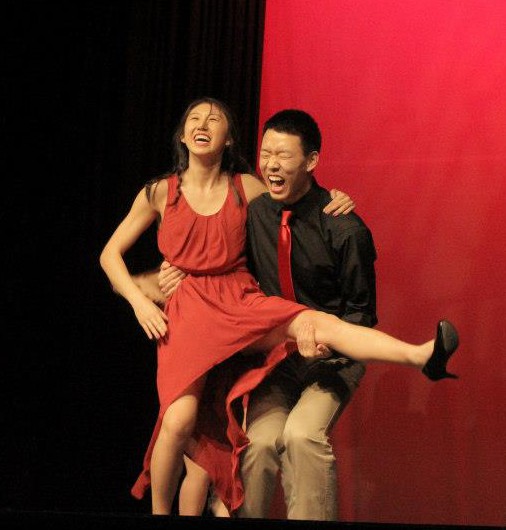 Hoarse voices along with wide smiles and colorful attire were the norm by Saturday at 10 p.m. as students streamed out of the auditorium.
On Feb. 15 and 16, Namaste hosted its annual International Nite (I-Nite) from 7-10 p.m. Over 1,000 people were in attendance overall.
The show kicked off with a video introduction to introduce the Namaste officers and the night's MC's, seniors Andrew Draganov, Sangburm Lee and Naveed Mostaghimi. Soon after, the Namaste boys' group delivered a rousing performance, and the dancers' energy set the bar high for the rest of the evening.
This year, Namaste added a special act to the lineup for the Saturday show. Before the intermission, nine Class of 2012 alumni returned to the Jefferson stage. The alumni were Narotham Badrish, Neal Chaudhuri, Latika Gulati, Dasith Gunawardhana, Jahnnavi Madiraju, Seema Mir, Ananya Mishra, Pranita Ramakrishnan and Mashal Wakilpoor.
The show ended with the traditional glow poi act. Many of the performers walked out into the aisles with their glowing poi and ended the show with a variety of songs.
For many seniors, this year's I-Nite marked the last one in which they would perform.
"I-Nite is special because it gives me the freedom to be who I want to be and express that through dancing with my friends," senior Woo-Ju Kim said. "Even after three years of participating in I-Nite, I still feel there's more I'd like to express about my culture."
Story continues below advertisement