PTSA hosts Valentine's Day luncheon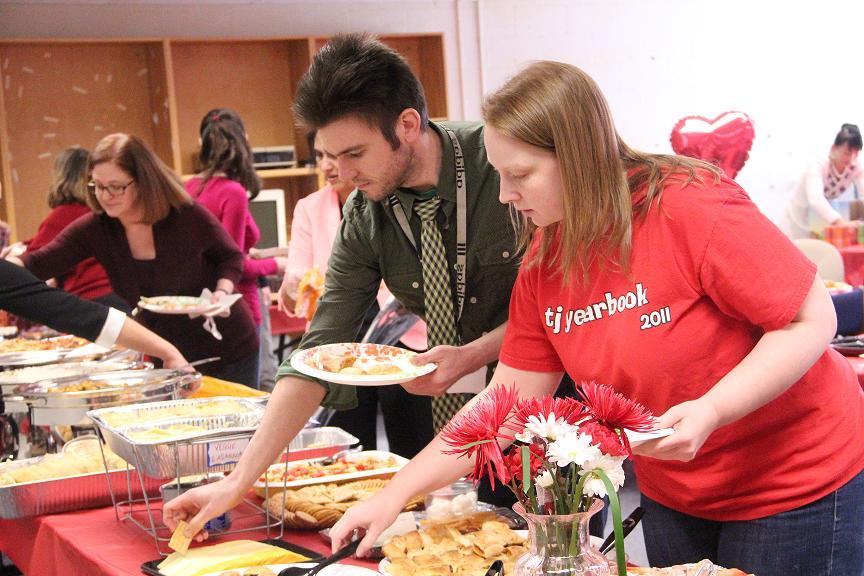 For most people, Valentine's Day means a box of chocolates and a rose from a significant other. For teachers, this special day comes with an additional treat: a buffet lunch courtesy of the Parent Teacher Student Association (PTSA).
The PTSA and other parent volunteers prepared a Valentine's Day Lunch for teachers, administration and staff on Feb. 15. Though most of the teachers only came in during their lunch breaks, many of the volunteers had been setting up since 9 a.m.
This year, the PTSA moved the luncheon from the main office to the former College and Career Center. With the larger space, they were able to set up tables for the teachers as well.
"The teachers were struggling out in the hall last year," PTSA President Celeste Fritzson said. "It's nice to have extra room."
While some of the dishes were homemade by the parent volunteers, the PTSA also had help from some local caterers. The food that was bought was funded by donations from members and the PTSA's own budget.
"We wanted to show our appreciation for all that the faculty and staff does every day and for the love and support they provide for our kids," Fritzson said.