TJ Science Bowl moves on to nationals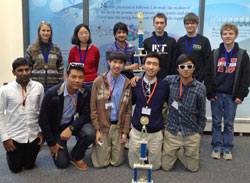 The State Science Bowl took place on Feb. 2 at Thomas Jefferson National Accelerator Facility (Jefferson Lab) in Newport News.
The Jefferson team, consisting of seniors Alec Brenner and Kalki Seksaria, junior Owen Gray, sophomore Janice Ong and freshman Ross Dempsey, went undefeated at the state level.
"I was aware that TJ had won the state competition for several consecutive years so the win was not a surprise," Dempsey said.
The team will go to the National Science Bowl in April.
"I've only competed in the middle school level at nationals so I'm not entirely sure what to expect," Dempsey said. "However, the team is definitely very strong so I would expect that we will advance to the more competitive rounds."