While most students lug around backpacks, notebooks, and computers, seniors Sonny Chen and Aurora Richard carry something unexpected: stuffed animal pigs. Through social media, students share photos representing their unique hobbies, from stuffed animals to film photography.  
Ham on the Gram
From reading books in classrooms to lifting 65-pound dumbbells, the Hefty Hamburglars go on many adventures together. Run by Chen and Richard, the Hefty Hamburglars is an Instagram account featuring two stuffed animal pigs, Dino Piggy and Dina Piggy. 
"The name actually took a while to think of. We were looking for a synonym of chonky and also a pun, like ham or pork. We found the word 'hefty' and then 'hamburglars' because they really like eating and stealing food," Richard said.
The Instagram account showcases pictures of the pigs at various locations throughout Jefferson, including the practice field, cafeteria, and cubbies. 
"We bring the pigs to school everyday, and they attend all our classes. They're very smart," Richard said. "The pigs made a bunch of posts for Homecoming spirit and adventures at the gym and grocery store."
Due to the popularity of the Hefty Hamburglars, Chen and Richard often share the pigs with other students.
"People really like the pigs since they're so cute, so we try our best to get them back. They also have a family, so godmothers and godfathers," Richard said. 
Along with posting pictures, Chen turns to his stuffed animal for support during stressful situations. 
"If I'm struggling on my electrodynamics test, I'll hug the pig. It's a comfort animal and provides emotional support," Chen said.
Cam on the Gram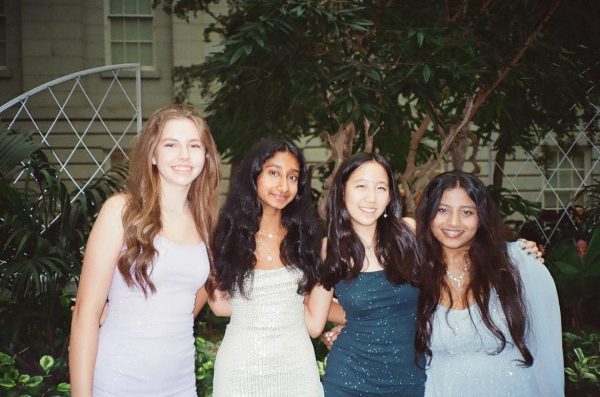 Click. Film camera in hand, senior Neha Reddy captures moments from around the world, from architecture in Greece to Homecoming askings in Nobel Commons. Inspired by her parents and social media trends, Reddy became interested in film photography two years ago. 
"Both my parents are pretty into photography, so we've had cameras lying in the house for a while," Reddy said. "When film photography became more of a trend on TikTok and Instagram, I also started."
Reddy documents her everyday life through photography, including scenery and friends. 
"I like nature photography and travel photography a lot." Reddy said. "If my friends are involved with school events, I'll sometimes shoot pictures of them."
Due to the high cost of cameras and film, Reddy uses social media to showcase her work to a wider audience. She runs a dedicated photography Instagram account called "reddyfilmz."
"A lot of my paycheck goes towards [film photography], so I wanted a way to share what I was doing," Reddy said. "A lot of my friends like seeing the photos, so I thought it would be nice to put them out there."
Reddy finds joy in the unique aesthetic of film photography. She's also interested in the development of photos, which involves soaking and drying the film.
"I really like the way the pictures look. I think they look so much cooler than normal [phone] pictures," Reddy said. "The process of getting [the photos] developed is also super interesting to me."
Beyond the visual appeal, Reddy values the spontaneity involved in film photography.
"[Film photography] is a one-and-done thing, so it's less about the photo and more just about capturing memories, which is that much sweeter because you have to wait," Reddy said.
Story continues below advertisement