An eleven-year-old was admitted to the Jefferson class of 2027 from Prince William County. After surpassing multiple grade levels, Linda Pistun embraces an early high school education at Jefferson.
"I am very excited," freshman Linda Pistun said. "After skipping three grades, I knew I needed a high school that would challenge me. TJ is definitely the place for that."
Pistun's educational journey began at a young age. Driven by a desire to be intellectually stimulated, she persuaded her parents to allow her to skip multiple grades.
"When I was four years old, I overheard my parents talking about whether to keep me in preschool for an extra year," Pistun said. "I was bored in preschool and really wanted to go to kindergarten, so I argued my case and showed them I could already read."
Although Pistun's parents allowed her to attend kindergarten, she wanted to continue challenging herself. 
"I went through lots of testing and ended up skipping 1st, 3rd, and 5th grades. 7th grade was my first odd grade ever," Pistun said. 
Pitsun set her sights on Jefferson because of its rigorous academic programs and cutting-edge facilities, especially in science and math. 
"I can't remember a time when I didn't want to go to TJ. My oldest brother told me about it, and I thought it might be the right place for me," Pistun said. "When I found out about TJ's satellites and planetarium, I knew it was the right place. I want to be an astrophysicist, and TJ has all the advanced math and science classes I need, plus TJ Space."
Despite entering high school at an age younger than her peers, Pistun has found ways to connect with them both academically and socially. She remains enthusiastic about delving into advanced science subjects in the future.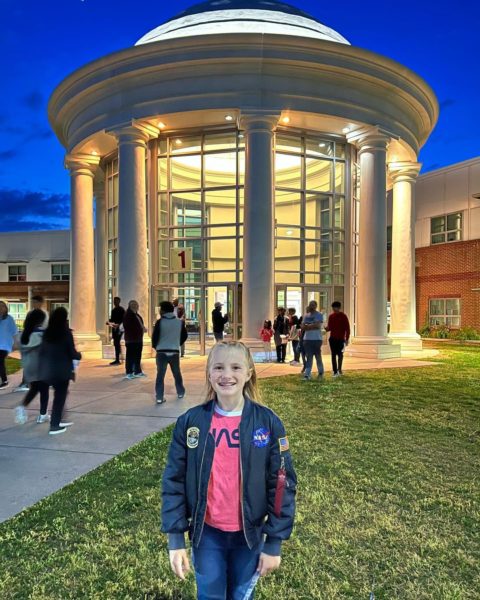 "If you've watched Young Sheldon, my middle and high school experience has been kind of like that. I'm maturing faster academically than emotionally, so sometimes I don't understand a joke or a situation. Some kids think it's weird that I'm there, but most of them think it's cool, and I've made some great friends." Pistun said.
Beyond her interest in STEM, Pistun's love for learning extends into her variety of extracurricular activities.
"I like to stay really busy. I own a nonprofit corporation called Linda's Lab, and I'm working to improve science education in public schools and solve world hunger through mealworm protein. I love to be outside and enjoy biking, swimming, and playing basketball." Pistun said.
However, Pistun also recognizes the potential challenges of pursuing both course rigor and numerous extracurriculars at Jefferson.
"I think TJ will definitely challenge me. I'm a little bit nervous about that since I'm used to things being easy. It's usually hard for me to find things I like, and at TJ the hard part will be choosing which things to do," Pistun said. 
Whether building relationships with classmates or  advancing her learning through classes and clubs, Pistun looks forward to immersing herself in Jefferson.
"I guess I'm just planning to be myself. It has gotten me this far, and I hope it will be enough. I will work hard to show the kids at TJ that I am a good person and that I'm lots of fun," Pistun said. "Age is just a number. You can't judge a person by the number of times they've revolved around the sun." 
Story continues below advertisement