Model United Nations wins Best Large Delegation at North American invitationals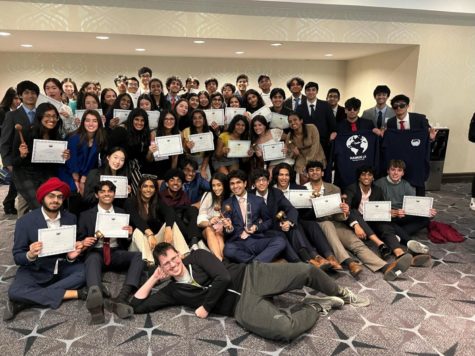 Receiving the award of Best Large Delegation, the Model United Nations club (MUN) attended the North American invitationals (NAIMUN) sponsored by Georgetown University from Feb 16. to Feb. 19, at Washington Hilton Hotel.
One of the biggest conferences in North America with approximately 3000 attendees, NAIMUN hosts delegates from countries like China, the UK, or Peru. This year, TJ MUN attended NAIMUN with 60 delegates and ended up with over 80% of their delegates winning an award. 
"Preparation was a little crazy this year [and] there was definitely a lot of stress," senior Tanish Jain, Secretary General of MUN, said. "[Over the course of] three weeks we did mass trainings [and] had three different teachers to get everyone up to speed and broaden our team, [which] payed off in the end."
Despite the overall success, many members of MUN, especially freshmen, faced difficulties in the midst of MUN's competitive atmosphere. 
"I would say one of the struggles was trying to find the resources [for research] and finding time because of school and homework," freshman Gabby Licayan said.
For freshmen, their first time attending a conference of such capacity, NAIMUN was a valuable experience teaching them life-long skills. 
"NAIMUN taught me how to work with a bigger group because this was a national competition, so people from [places like] Peru and Japan were there," Licayan said. "It taught me a lot about how other people relate to MUN and how to talk with other people that I don't know."
The next upcoming event for MUN is TECHMUN, a conference organized by and held right here at Jefferson, which will take place in late March. TECHMUN invites numerous schools from the area and provides them with a vast selection of committee choices. 
"We do a wide variety of committees [from] committees on refugees all the way to committees on black panther," Jain said. "We're trying to break our previous delegate count that was in the 700s, shooting for something in the 800s this time."
From attending national conferences to planning their own, MUN is a club that shows a promising future, likely to grow even more in the next couple of years. 
"TJ MUN is one of those clubs that you need all hands on deck for and there is definitely no lack of interest for the club," Jain said. "The goal is just really to make sure that TJ [MUN] can not just survive, but thrive."