Jefferson orchestra holds winter concert
The Jefferson orchestra held their winter concert on Jan. 11, where the full orchestra performed "Beethoven's Second Symphony". 
"Our winter and spring concerts, which [are] the last two concerts, we play with the full orchestra, which means that we have both the band and the orchestra together," Symphonic Orchestra president Serenna Semonsen said. "It's really interesting because then we can play full symphony music."
The orchestra also played Sleigh Ride, as an encore piece in the holiday spirit. TJ Orchestra Boosters organized a fundraiser where parents could donate money to the orchestra in exchange for a raffle ticket, for the chance to conduct "Sleigh Ride". 
"We came up with the idea of the raffle, which was just the idea of selling something where it's clear, it's for a fundraiser. Nobody thinks they're getting something for it. But with something kind of cute," TJ Orchestra Boosters president Rebecca Goldin said. "That was how [we] came with the idea that we would sell the right to conduct Sleigh Ride." 
According to the rules of the fundraiser, the nominated person to conduct "Sleigh Ride" could be anyone older than four years-old.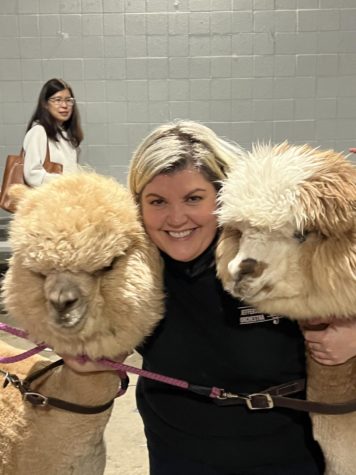 "Basically, the orchestra practiced it in a way that no matter what the conductor does, we would be in tempo because we knew that the person conducting would have no experience," Semonsen said. 
As expected, the winner of the raffle, a parent of one of the orchestra members, had no prior conducting experience–but the orchestra was prepared.
 "The raffle was just kind of something fun. Especially since a lot of us just played Sleigh Ride for the holiday pop concert in Nobel, so it's still kind of under our fingers," Symphonic Orchestra member Alan Fan, a junior, said. 
Despite some logistical difficulties getting tickets to parents, TJ Orchestra Boosters considered the fundraiser a success and earned over $1,000. 
"This is the first year of us trying this, and then people kind of wanted to do it, but they didn't understand how it was going to work," TJ Orchestra Boosters fundraising chair Chihyon Yi said. "Next year when we do it again, I think it's gonna be a lot more popular." 
Between the raffle and the full orchestra playing, the winter concert embodied the spirit that makes orchestra so special. 
"That's definitely the most fun part of it. I feel like having a knowledge of music sort of brings people together," Semonsen said.