TJ Girls Tennis holds senior night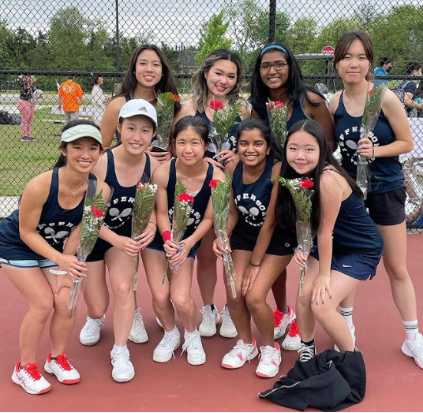 The Jefferson Girls Tennis team honored the accomplishments of their seniors through a senior night celebration on May 11, 2022. 
"It was really exciting because we've been on the internet for two years and it was really fun organizing it as an underclassmen, so I was really excited to see what the underclassmen had for us this year." senior Yeefay Li said. 
Senior night is traditionally a celebration of the senior athletes at their last regular season game. 
"The first time we got to see senior night was last year, and we had to model ours again after them in which we basically got balloons, we got decorations, we got everyone to bring food, we got sashes, tiaras, and some gifts." junior Jessica May said.
Planning is done by the juniors, with contributions from all the team members. This process takes some time and requires ordering several things, so preparation for the event often begins weeks before.
"[The juniors] make spreadsheets and plan out the order, but we collect money from everyone including juniors, sophomores, and freshmen. And we also assigned each person their own senior to make a poster for. So I would say that everyone was incorporated but the juniors did most of the planning" May said.
Each name was announced, along with several facts about them such as what college they'll be attending and their favorite memory on the team. Each senior was presented with flowers, and their own specialized poster.
"It was a lot of fun to see all of our hard work pay off, like we signed up early for an eighth period to help set up and then once you see your team, it was just so much fun to see the excitement they had." May said.