Jefferson holds Eid al-Fitr celebration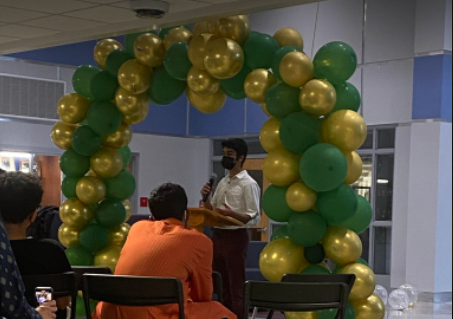 In celebration of Eid-al Fitr, Jefferson held a celebration on May 6, 2022. This was the first ever event that Jefferson has held in honor of this widely celebrated holiday.
Eid is a Muslim holiday that takes place once the month-long fast of Ramadan is done. Traditionally, most people break their fast during Eid and see it as time for forgiveness. Eid is another name for "feast" and is celebrated through the joy of food and prayer. 
"Normally, I celebrate Eid with friends and family at home. We eat traditional foods and dress up nicely and it's very enjoyable,"  freshman Haniya Chauhdury said.
Fliers advertising the event could be found all around the school in the weeks previous. Several students also played their part in spreading the word by posting on social media and Ion.
"Our Eid festival at TJ was thought out and planned by Hussain Al-Sadig who worked tirelessly to put it on. All his hard work was rewarded as it ended up being a blast," Chauhdury said.
The event began at around 4:30 p.m. Like the day of Eid al-Fitr itself, which starts off with a morning prayer, the celebration started off with a reading of the Quran by freshman Hussain Al-Sadig.
In spirit of the event, many students wore Islamic attire to school to celebrate and show appreciation of their culture. Students brought various Islamic cuisines for the festival, and organized all the activities, some of which included its henna station and musical chairs.
"I enjoyed the community aspect of it, how the many Muslims, and even non Muslims of tj came together to celebrate. Also, musical chairs was fun to watch," Chauhdury said.
This was the first time that something like this has been held at Jefferson, but students are optimistic about it not being the last.
"I think the Eid festival would be a very nice tradition as there is no set festival at TJ specifically for Muslims or derived from Muslim events," Chaudhury said.