Freshman IBET holds a Shakespeare insult smackdown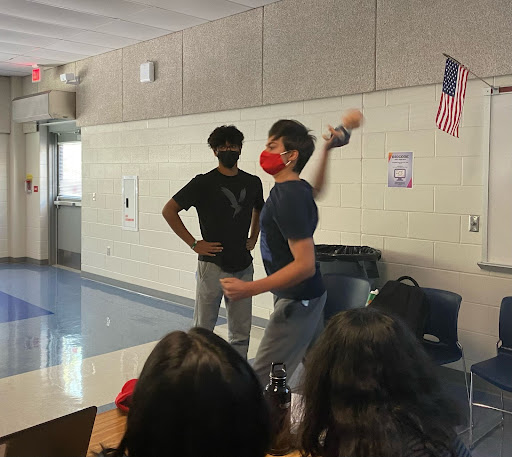 The Stream Team IBET hosted a Shakesphere roast championships last Thursday where freshman students hurled Shakespearean insults at each other in the Cafeteria after presenting their IBET projects. This was the introductory activity to the Shakesphere unit that all freshman English students have to learn about.
Shakespearean or Elizabethan insults sound very different from modern English insults. For example the insult, "thou fawning, rump-fed, coxcomb!" Would mean "you gloating, pampered fool!" Students hurled these types of insults at each other during the competition.
"My favorite insult was definitely the one I used in [the final tournament]. That was really fun, I really combined the theatrical use of props with the Elizabethan insults to create this performance," freshman Misha Speede, who was the champion of the insult tournament, said.
The Elizabethan insults students came up with sound wacky and weird—which was the whole point to the tournament.
"One of the insults I used in the competition was 'Thy words are so blunt, so dull, and so art thou. Villain, I have done thy mother. Away, you starvelling, you elf-skin, you dried neat's-tongue, bull's-pizzle, you stock-fish! You tailor's-yard, you sheath, you bow-case, you vile standing tuck!'" Speede said.
The insults used might just seem like fictitious words. However, each insult was taken from an actual Shakespeare play and has its own unique meaning.
"I called [the first guy] a disassembling harlot and I said that they're blunt as a person, and dull. For the second person, I told them that people tell them they have a good face, but they don't really have a nice face. So a little bit of wit," Speede said.
Though only three contestants competed in the final "insult smackdown" each contestant had to first compete in an elimination competition within their own IBET rotations. The competition was formatted in a bracket fashion, with each contestant having to win multiple rounds in order to make it to the final.
"I think as a person, I'm just kind of loud, and I like calling out to my friends and projecting my voice a little so I think that little part of me helped win the competition," Speed said.
Participating in this insult tournament helped change the contenders' perspective of Shakesphere in general.
"[Shakesphere] is definitely a lot more fun than people portray it to be. The language is much more interesting to me now," Speede said.