Jefferson hosts Poetry Out Loud competition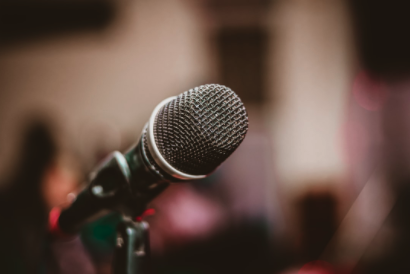 Jefferson hosted its Poetry Out Loud competition on December 3rd, 2021 in the lecture hall to enable students to express their feelings through a new form of writing. Many Jefferson students took part in this two-level poetry competition. This competition is sponsored by The National Endowment for the Arts, which furthers the study of poetry for high school students across the country. This competition assists students in mastering their public speaking skills, establishing self-confidence, and learning about literary history and contemporary life. 
"I initially did POL since it was a requirement for our English class (I have Mr. Miller), but once I found my poem I just connected with it and I really loved it so much," junior Nandini Shyamala said.
The final school-level competition took place on December 3rd, with 11 participants. The winner was announced the same day, with senior Damilola Awofisayo taking first place, and Shyamala being the runner-up. Many students recited multiple poems that the readers decided represented them the best.
 "I always looked for poems where the narrator was navigating between multiple emotions throughout the poem. There is a lot of poetry and I guarantee you, you'll find something you like. It doesn't have to rhyme or have huge amounts of symbolism to be a good poem, it just has to speak to you," Awofisayo said.
Each state-level winner will receive $200 and a trip to Washington, DC to compete at the National Finals. The state winner's representing the school will attain $500 for the school to use for purchasing poetry materials. Awofisayo will go onto Regionals to represent Jefferson in hopes of moving onto the National Finals, where the grand winner will receive a $20,000 dollar award.
"I learned that you don't necessarily have to be the best actor or speaker to be good at POL, it's really just about understanding the poems and having them connect with you," Damilola said.