A brief review of "All Too Well"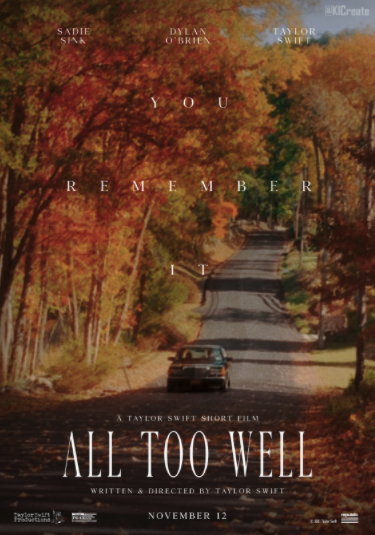 Taylor Swift has masterfully crafted a dramatic yet moving short film for the long-awaited, All Too Well. This delicate short film entails the story of two lovers, portrayed by Sadie Sink and Dylan O'Brien. In public view, the 19 and 29-year-olds relationship is a shattering relationship of Swift and Jake Gyllenhaal, whom she previously dated around the same time frame. However, there has been no confirmation as to whether or not All too Well and other songs on Swift's trending album Red have a connection to them.
The film opens with the then-loving couple traveling to stay in upstate New York. However, the happy couple's relationship takes a toll at a dinner party, where O'Brien's character dismisses his girlfriend in an attempt to impress his guests. After the party, the two fight, with O'Brien eventually breaking up with his distressed girlfriend. As the two continue with their lives, Sink still reminisces back to her time spent with O'Brien. The film jumps 13 years into the future, with Sink's character now portrayed by Swift. She is shown as an author at a packed bookstore, reading and signing copies of her book All Too Well. Outside, an older O'Brien, played by Jake Lyon, looks through the window, watching the scene unfold in front of him.
Swift has connected the film to many of her popular songs released beforehand. An example among many is the car the couple used when driving upstate, a Mercedes-Benz manufactured in 1989. The manufactured date appeared to connect with Swift's hit album, 1989. Swift named the album after her birth year, which represents the rebirth of her image and artistry. Sink goes through the same feeling of "rebirth," with her character uncovering a new future for herself after going through a tough and trying time. Another connection took place during the scene where Sink's character is shown authoring a book titled All Too Well. The cover features a bare tree with a red scarf hanging from its branches, resembling the cover of Shel Silverstein's "The Giving Tree". The popular children's book illustrates the story of a boy who hoards the tree's resources until the tree has nothing left to give. The boy may be connected to O'Brien, the demanding boyfriend that crushed Sink's dreams of becoming a happy couple. On the contrary, the tree could be represented by Sink, with all that is left being the "tree stump." 
No matter the type of 'Swiftie' you are, All Too Well is a short film to remember, leaving fans feeling a range of emotions. From heart-wrenching songs to beautiful scenes, Swift is a mastermind when it comes to translating her love life into new mediums. The singer is known for turning love affairs into pop songs, and now, her fame is growing with her stirring short films. The film is emotionally, lyrically, and musically compelling, and fans are eagerly awaiting more from Swift, along with new and trending songs in the future. "The way we are all collectively crying and relating to all too well has me genuinely concerned," a Twitter user wrote, reflecting the effect of Swift's film on the internet.