Up to the ultimate challenge
Senior Kareem Jaber turns his ultimate frisbee playing experience into amateur coaching for Jefferson's league-less club team.
Originally published in the September 2021 issue of tjTODAY.
The first blow came on Aug. 23. Longtime coach and former professional ultimate frisbee player Jared Seyler notified Jefferson's ultimate frisbee team that he would have to give up his role for the season. 
Then, on Sept. 2, even worse news: Jefferson couldn't compete against other schools because they didn't have enough girls to participate in the fall mixed-team league. With just 10 days before the intended fall season start date, the team found themselves without a coach, a league, or any idea how to address their issues. 
Fast-forward to the present, though, and Jefferson's ultimate frisbee team has far from crumbled under the turn of events. Twice a week, the discs still fly from one end of the field to another. The players, meanwhile, remain hyperfocused on little more than the flick of their wrist.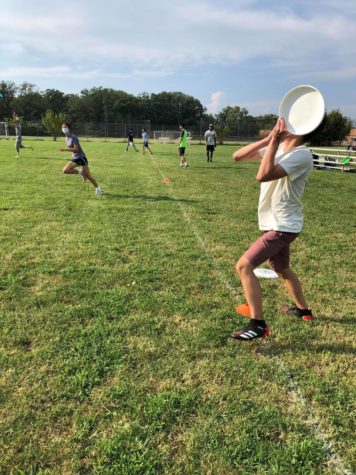 A student steps in
At the core of the team's resilience has been senior Kareem Jaber: player, captain, and all of a sudden, coach. The two-and-half year veteran was thrust into the role when the team failed to find a suitable adult replacement for Seyler. 
"I'm kind of just throwing myself into open water with a bunch of sharks, trying to figure out what I'm doing," Jaber said. 
Jaber teaches the team skills, organizes drills, and shares his personal experiences.  Months of playing in summer youth leagues and adult leagues helped Jaber develop the skills needed to coach Jefferson.
"I have enough knowledge to create a generic plan to run practices. The main focus is to get fundamentals down, and then we'll focus on a few drills that the team struggles to perform," Jaber said.
Without a competitive league among school teams for Jefferson to participate in, Jaber and other members of the team chose to participate instead in a five-on-five league — with matches on Sunday afternoons. Though Jaber often competes against his Jefferson teammates, he still helps everyone on the team improve when coaching. 
"When we're playing at practice, after a point is scored I'll stop for a second and ask them what went well and what didn't.  Sometimes I'll have them go back to where they were, and we'll walk through where we could improve," Jaber said.
Collaborative coaching
Jaber's actions have not gone unnoticed. His teammates see him as a natural leader and appreciate his efforts to develop the team.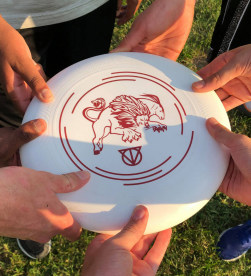 "Kareem does everything from planning the practices to bringing all the gear, coordinating outreach events, and communicating with the Fairfax frisbee league. He is also a very calm leader and doesn't yell out instructions," sophomore Virginia Hendricks said.
As a student, Jaber is more welcome to suggestions on technique and types of drills than most coaches would be. 
"I think everyone trusts me to kind of understand things to a deeper level, but that doesn't mean that I know more than everyone. There's a lot of things that I do that I'll screw up and then someone else will give me advice and then I'll fix it," Jaber said.
Jaber occasionally forgets to teach certain drills or techniques during practices, but his teammates remind him when this happens.
"There's been times when he's forgotten something that we should do and we've reminded him of it. It's just the cracks and little things that he misses that we help fill," senior Charles Morse said.
Despite the new responsibilities, Jaber still has a passion for ultimate frisbee. The supportive community and friendly environment is a big part of the sport's appeal.
"Everyone's really honest, there's no faking injuries like in pro soccer. We're just having a great time and in the end, it's not about whether I walk out as a winner, or a loser, but the experience of playing frisbee," Jaber said.
Leave a Comment