Homecoming 2021 spirit week recap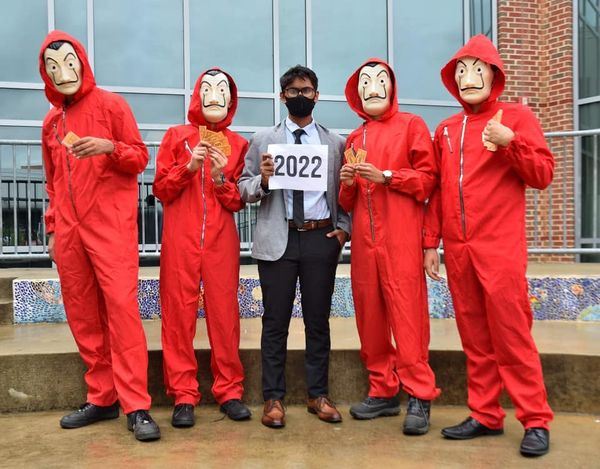 Spirit week is one of the cornerstones of Jefferson Homecoming, where each day features a different school-wide theme. This year's spirit days were Dress Your Best Day, Fictional Character Day, Group Day, and Theme Day. Much of the fun around the event comes in the form of  "Best Dressed," the daily competition between classes for who has the best costume for that day's theme. It's an opportunity for every student to show their school spirit, hype up Homecoming, and earn a few points for their class along the way.
Starting off the week was Dress Your Best Day, in which students wear fancy outfits to school ranging from ball gowns to traditional clothes. This year, senior Sarina Saran won Best Dressed in a black gown, a silver crown, and a hot pink sash.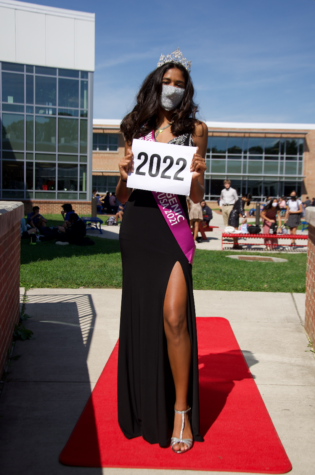 "I like participating in spirit week because I think it's a good way to build community," Saran said, "It's so important to have school spirit and pride."
Saran has planned her outfit around two weeks prior to spirit week, agreeing to represent the class of 2022. Previously crowned "Miss Photogenic" in the Miss India USA pageant, Saran has had some experience with getting dressed up; she's worn several dresses for the Pageant and used one of them for Best Dressed Day. 
"At first I was hesitant [to represent 2022], but then I was cool with it because I thought it would be fun, and it was. [Winning the Pageant] was a first time thing for me, but it was a crazy experience," Saran said. 
Seeing both the variety of outfits and the number of participants is Saran's favorite part of spirit week. She strongly believes that everyone who chooses not to participate in Spirit Week is missing out.
"That's what makes us different from other schools," Saran said, "Any hallway that you pass through, you'll see someone participating in spirit week. Maybe it'll take time to get ready, but honestly, it makes me more excited throughout the day when I look down and I'm dressed in whatever the theme is."
The next day's theme was Fictional Character Day, where students dress up as their favorite characters from TV Shows, movies, or books. Sophomore Harika Akundi was the Class of 2023's nominee and dressed up as Link from The Legend of Zelda: Breath of the Wild.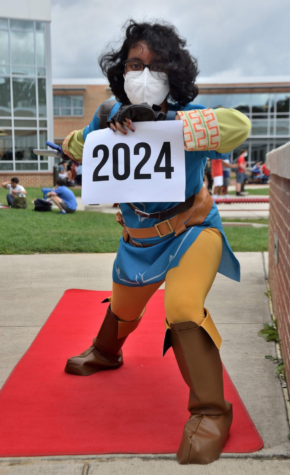 "I participate in spirit week because I really want to go out of the ordinary and do it with other people," Akundi said. "Just dressing up in your favorite character and walking around in the halls, showing-off your outfit, is the best thing ever."
Akundi also participated in Group Day. Since her group's costume was self-designed, she put more effort into Group than Character Day. This is why she was surprised to have gotten the nomination. 
Akundi believes that spirit week has a positive impact on the school community in many ways. 
"It's a chance for people to get to know how the TJ atmosphere is," Akundi said.
Akundi explained that she loves all of the characters, but still ended up choosing the most classical character. She created her costume by collecting the parts from different places and combined them to get the look she wanted. 
"I wanted to do [Link] because he's cool, but it's not an insane costume," Akundi said. "There's another character in there named Urbosa, who wears a gold-plate and a skirt and seven-inch heels. As much as I would love to be a seven-foot-tall lady with a curb sword, I can't pull that off."
Wednesday's theme was Group Day, where students grab a bunch of friends and dress up together. The day's winner of Best Dressed went to a group of five seniors dressed as characters from the Netflix show, Money Heist. This group consists of Arjuna Bazaz, Sam Esteban, Jj Sandhu, Aaryan Dave, and Aryan Agarwal. 
"Two members of the group talked about it together, and eventually proposed it at lunch on Monday, where we decided on it then," Bazaz said.
After they had planned out which costumes they all wanted to do, they decided that they would buy the costumes.
"We gave him the money and he got the costumes from Party City. On Tuesday (9/21) we texted in the groupchat to discuss the accessories like shoes color and fake money," Bazaz said.
Thursday was Theme Day, where each class took their respective Homecoming theme into their own hands. This year, Kritika Khati and Sahiti Kota from the junior class won Best Dressed for their class. Following their theme of "Fantasy vs Reality," Kota and Khati are dressed as a mermaid and a pack of fish sticks. 
"I planned my outfit a month in advance, and told Kritika three weeks before spirit week," Kota said.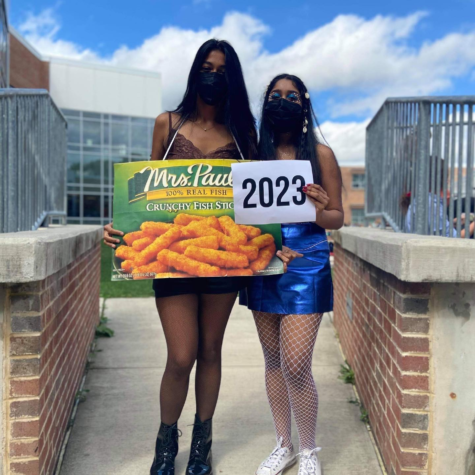 For Khati, planning her outfit with friends is her favorite thing about Spirit Week. On the other hand, Kota's favorite parts about spirit week are the pep rallies and seeing everybody's costumes. 
"It was just a random idea that popped in my head," Khati said, "[Kota] knew that she wanted to be a mermaid, and the closest thing to that in real life is a fish. So I thought: 'What happens to fishes?'" 
Both Kota and Khati agree that spirit days are important to the TJ environment and that all students should participate in them.
"I think Spirit Week is the best week at TJ. It's one of the only times you can go crazy and have fun, especially in a high-stress environment like TJ," Kota said.