Jefferson Science Olympiad triumphs at state competition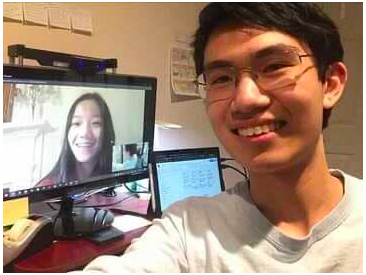 The Virginia Science Olympiad states competition awards ceremony was held on March 27, where Jefferson's team earned first place overall with a record score. With the national tournament scheduled for mid-May, the team reflects on their journey throughout the year, starting way back with their October tryouts.
"Our initial turnout numbers were fantastic. We had a record high year for interest, much of which involved the freshmen which was amazing. We had around 140 people applying in total," Emma Cox, sophomore and publicist for the Jefferson Science Olympiad team, said.
Once teams had been selected, the team immediately began preparations. Recognizing the restrictions of a virtual year, the Jefferson team started with the building of team dynamics via online connection.
"We set up a Discord server, and we play a lot of games together. Anything that builds the sense of community within the team was a priority for us," Cox said.
With the entire structure of Science Olympiad being based around partner cooperation, the building of trust and reliance was a key factor in their success. In addition to the strain on relationships, this virtual year saw many changes to the structure of Science Olympiad, such as a restriction on the pool of events.
"There are three different branches of events. There's test only events, lab events with chemistry experiments, and finally build events. For all of our tournaments, we essentially couldn't do those build and lab parts. They were either modified to fit the virtual environment or removed entirely," Science Olympiad captain and senior Thomas Lu said.
While a virtual tournament meant the changing of certain events, it by no means deterred competition. The virtual tournament scene allowed for a wide variety of invitational competitions, many of which saw an increase in participation.
"First of all they're much larger. In the past, a competition may have around 20 teams. This year, easily 100 teams are in attendance. That also means you also have some really competitive schools showing up, which is a welcome challenge for the team," Lu said.
This boost in competitiveness paired well with the overall increase in the quality of the tests. Because of the virtual setting, test writers for a competition could contribute their knowledge without necessarily being present.
"Since everything's virtual, you don't have to keep test writers centralized to certain college students. You get it like a lot of this talent coming over from all across the nation, which means really long, really hard, and really high quality tests all at once," Lu said.
The team's preparation and grinding of events brought them over the finish line of the state competition, overcoming the variety of factors the new season brought with it.. Aubrie Holman, Biology teacher and sponsor for the Jefferson Science Olympiad team, comments on what she looks forward to for this year's national competition.
"Just the excitement around nationals, and the fact that we still have things to prepare for and goals to set. That time together and the experiences that come with it are the things I'm most excited about," Holman said.
As the team prepares for their final tournament of the season, Mrs. Holman recognizes how an entire season in the virtual environment has been possible.
"I can't give the officers enough kudos. This never would have happened without them, and I'm so proud that they could pull this off. They deserve it," Holman said.
While appreciation is passed to the officers, Lu continues it onto the team. After achieving by all aspects a successful season, Lu believes everyone deserves to be recognized for their hard work.
"Credit has to go to every single person on our team this year, because every single person's performance affects our score. I'm really proud of how everyone has done. I'm really happy I got to work together with you and grind together with you, and I'm looking forward to what we can do with the rest of the season and years in the future," Lu said.