Cyber-paving the way to success
Jefferson students placed third at CyberPatriot Nationals after three years of hard work and dedication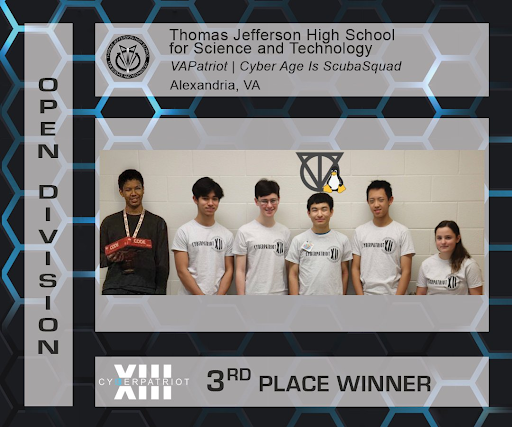 They sat poised in front of their screens as seconds ticked down before the competition began. They each needed to remove vulnerabilities, such as backdoors and other major security holes, in multiple computers in just the first few minutes, or they would risk losing their systems to oncoming malware and exploits. For the past few weeks, they had trained for this moment, spending countless hours simulating various incident response scenarios. Now, however, they faced the real deal, and in the final moments before the competition, the true magnitude of their task dawned upon them. But they were prepared to tackle it head-on.
After qualifying for the third year in a row, on Mar. 21-22, a team of six Jefferson juniors and seniors placed third in the Open Division of the thirteen annual CyberPatriot National Finals (CP-XIII). The typically in-person event was held virtually as a result of the pandemic.
Their journey to Nationals began during the middle school days of team captain and senior Ryan Kim, junior Darin Mao, and junior Darius Kianersi.
"Darin, Ryan, and I all went to the same middle school. We joined [CyberPatriot] a year after Ryan joined, because he's a grade ahead of us. There was a lot of advertising going on for the club, [which is] how I got into it. I also talked to some people on the team," Kianersi said. "[At Jefferson], because we were in touch with Ryan, he essentially recruited us to join his own team."
Since then, three members have joined their team. Senior Alex Suh joined during his sophomore year, junior Lauren Delwiche joined her sophomore year, and junior Autin Mitra joined this year. Even though they haven't known each other for a long time, "VAPatriot | Cyber Age is Scuba Squad" has established a good team dynamic — both during and outside of competitions.
"This is my first year, so I'm not too familiar with tradition[s the team has], but if [the competition is] online some of us just chill in [the Discord voice channel]," Mitra said.

The team also has many inside jokes, which they attribute to the structure of the competition.
"Grinding out a six hour competition is a good team-building experience," Mao said.
Outside of team coordination, a large part of the CyberPatriot experience, particularly at the national competition, is meeting new people. However, the online environment has made it more difficult to meet others in this way.
"I can talk to them, but you don't get the same experience as you would if you were in person," Kim said. 
This year wasn't the first time Nationals was conducted virtually. Last year's competition was also hosted online due to the pandemic. Additionally, rounds preceding the national finals were also typically hosted online.
"The [preliminary] rounds in the past were online, so that wasn't any different. But [Nationals] is probably the culminating experience of the entire competition for those who get to attend," Suh said. "Virtual, as hard as they tried to make it interesting, was just underwhelming both years to a very large degree."
Looking back, Kim believes that their success required teamwork, which he struggled to find his first year at Jefferson.
"My freshman year was very difficult. That was when I figured out that it is very important to have teammates who are motivated, because otherwise you try to do all the work. And not only is that not fun — a competition of this scope is actually impossible to do [in that case]," Kim said.
The team struggled to stay motivated outside of competition season, due to their prior success.
"Avoiding complacency was definitely something I have to deal with, because as soon as Darin and I entered freshman year, we made [Nationals] in our first run in Open Division. For me at least, it was very easy to become complacent and stop researching vulnerabilities [and] not work on our checklist as much," Kianersi said. "As soon as the competition season would actually start, then I would immediately be motivated, but it's definitely difficult trying to stay focused during the offseason and not thinking to myself how we may [qualify for Nationals] on our first try. After [we] passed the first year, the ultimate goal is just placing [in] the top three."
The team's coach, Jefferson computer science teacher Dan Tra, has always been there for both their successes and struggles. Two years ago, he stepped in to help for an online CyberPatriot competition — which has a coaching supervision requirement — when the team couldn't all make it physically to Jefferson.
"We were prepared to just have three [out of] five of our members competing, knowing that we likely wouldn't place very well and advance. Luckily for us, Mr. Tra knew about our situation and offered to let us use his own house on a day that worked for all of our team members to compete together," Kianersi said. "We all went to his house at like 8:30 a.m. and occupied his entire living room to compete in for six hours. This was our first year competing together, so he really had no reason to believe that we were going to qualify for [Nationals], yet he still gave us the opportunity to give it our best shot."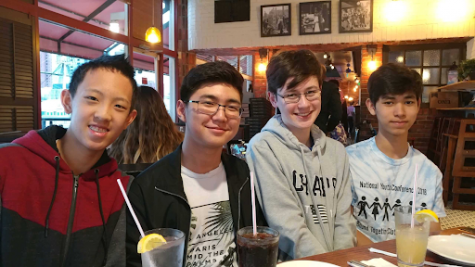 Throughout the years, the team has built up many fun memories from CyberPatriot, which are often correlated with food.
"We went to the Cheesecake Factory, during [Nationals], [and] we got like eight different slices of cheesecake — eight slices of eight different cheesecakes," Kianersi said.
Beyond the competition itself, the team has expanded their connections and opportunities from the experience after connecting with other national finalists.
"From talking [with] people online, I found out a lot more about different opportunities to do cybersecurity things, and it helped me gain an awareness of what you actually need to do to be involved," Kim said.
The team has walked away from the competition more successful in the cybersecurity field, looking forward to what they can accomplish in the future.
"
There's a lot to learn, but if you're motivated, you can start from anywhere. I had no idea what I was doing when I first joined, but through diligence and a lot of studying, I got to where I needed to be.
— senior Alex Suh
"I never thought about [cybersecurity] as a potential career before the competition. I was assuming I could probably do something computer science related, but after doing the competition, I'm much more inclined to start looking at more cybersecurity related jobs," Kianersi said.
For future teams attempting to follow their path, the team thinks that motivation to learn is more important than prior skills, particularly since skills can be obtained through research.
"Don't be intimidated," Suh said. "There's a lot to learn, but if you're motivated, you can start from anywhere. I had no idea what I was doing when I first joined but through diligence and a lot of studying I got to where I needed to be."
Leave a Comment