Jefferson volleyball starts season hopeful despite condensed schedule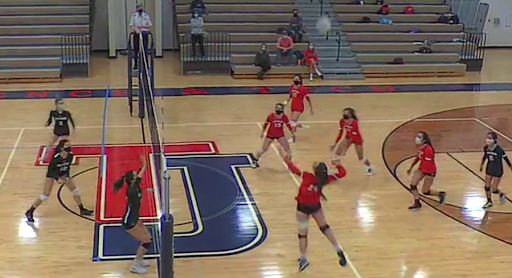 The first game of Jefferson's 2020-21 volleyball season took place at Jefferson on Monday, Mar. 1 against Wakefield High School. The opposing team entered the school with their coaches at 6:30 p.m. to warm up for the start of their game at 7:15 p.m. They brought not a small crowd of cheering families, as in past years, but a second ball for warmups and a ton of hand sanitizer. 
COVID-19 changes
The Virginia High School League (VHSL), the organization that oversees and coordinates high school sports in Virginia, has created lists of cautionary guidelines for sports teams to follow to protect players' and coaches' health during the COVID-19 pandemic. In addition to constant mask-wearing, there are new sanitation procedures, such as spraying and wiping the chairs that players sit on and the net that they serve the ball over after every game. The amount of people able to watch a volleyball game is also severely limited for both teams — only two family members per player. On Monday, there were no fans in the stands on the opposing team's side.  
"Historically, not many people really come to watch volleyball, but usually it's a little louder than [on Monday]. It got better as the game continued, but the night [was] really quiet which [was] awkward for everyone in the gym," senior and varsity player Miranda Xiong said.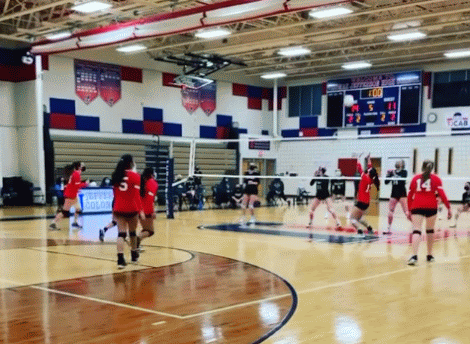 The actual gameplay is the same, since team members already space themselves out on the court, and the two teams are separated by a net. However, all players must put on a mask (and keep it on) and answer questions to screen for symptoms of COVID-19 when they enter the gym for practices and games. 
"We all wear masks, obviously, and we always try to stay six feet apart," freshman and varsity player Jessica Chen said. "We try to spread out so that when we take off our masks to drink water, we don't have that much interaction."
Setting, bumping, and bonding
Because of the condensed sports seasons this year, the Jefferson volleyball team had only one full week of practice before their first game. In past years, players started pre-season practice in August, since volleyball is normally a fall sport. 
"We would have benefited [from] a longer preseason, because then we would [have been] able to get to know each other better as a team… we definitely would have had better coordination and we would have had more practice with rotations," junior and JV player Jeanie Qi said. "[But] my team did pretty well for having just one week of getting to know each other."
In the past, volleyball players participated in classic out-of-school team bonding activities like laser-tag, but their in-person interactions this season have come almost exclusively from sports practice. 
"We just focus on getting a lot of game-like situations in," Xiong said. "The center is constantly setting to the hitters and the hitters are constantly hitting, just to get that connection down and get those contacts in." 
In volleyball, different players have different roles, and they all have to work together to keep the ball off the ground on their team's side and get it over the net to the other team's side. That requires knowledge of how quickly members of the team respond to balls served at them from different directions. 
"We are trying to get into the rhythm [so that] everyone knows how to set the ball so that the hitters are most comfortable and the passers know where to pass the ball so the setters are most comfortable," Chen said. "I think the first few games will be a little bit shaky, since… we've only been [playing] a week as a… full team."
Despite the lack of time that Jefferson's volleyball teams have had to practice together and all the new protocols to prevent the spread of COVID-19, the players' attitude on teamwork has not changed. 
"
"We have a lot of energy. We talk a lot on the court. I think we're gonna have a pretty good season ahead of us because we're all willing to put in the effort to get better.
— junior and JV player Jeanie Qi
"The people on [the varsity] team are really nice, really supportive, even if you miss a few servers or something like that, no one's really like blaming you," Chen said. "[They say] 'Oh, you can do better next time."
Forging interpersonal connections hasn't been too difficult for members of the JV team, either. They've made a Spotify playlist so that the music playing during practice includes songs that they all like, as well as a group chat on Facebook Messenger to coordinate jersey and shirt colors for games. 
"We're all really nice to each other, and we're all really fun," Qi said. "We have a lot of energy. We talk a lot on the court. I think we're gonna have a pretty good season ahead of us because we're all willing to put in the effort to get better."
Stiff competition
Although the varsity team lost their first game against Wakefield High School on March 1, it was competitive — Jefferson won one set and Wakefield won three, and the score for the last set was 27-25, with Wakefield just edging out Jefferson for the victory. The first team to win three sets (best three out of five) wins in varsity volleyball games. 
"If we had won the fourth set, we could have pushed it to a fifth set," Xiong said. "Obviously,  there [were] lots of rough edges to clean up, but we didn't get destroyed. We held our own and we even took a set from them." 
Some students who played on the volleyball team in the past did not return this year, so the varsity team had to adapt to gaps in certain areas of the court. For example, only one of last year's varsity team's three setters is playing again in the 2021 season. Despite these losses, Xiong is still hopeful that the team will improve with more practice and gameplay time. 
"I don't really know how the other teams are doing, because we haven't played [them] yet," Xiong said. "Yesterday was only pretty much the first game, but I'm excited to see how the season goes. I think we'll grow a lot."
Leave a Comment