Jefferson FBLA hosts entrepreneurship event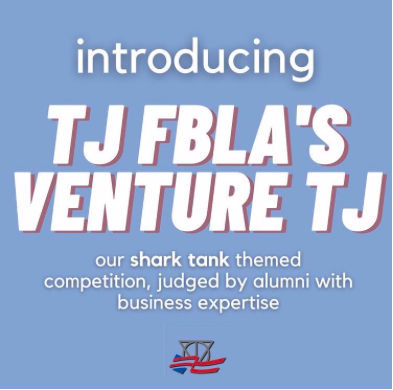 After a long hiatus, Jefferson's Future Business Leaders of America club (FBLA) resumed hosting their very own version of a Shark Tank, VentureTJ. VentureTJ is an event which encourages the young entrepreneurs at Jefferson to create a working business model and idea. The event consisted of two rounds, where groups of 2 to 4 presented during FBLA's weekly meetings. After each pitch, judges would evaluate the pitches and questions would be asked based on the pitch and practicality of the idea. By giving students this opportunity to present their plans in front of a group of students and judges, students gain first-hand experience of becoming a future entrepreneur.
"FBLA is a business-oriented club, and at most schools, they attend FBLA competitions but at TJ there aren't the business classes for that. So instead, we do presentations and business related activities," Vice President of FBLA and senior Navya Vargese said.
FBLA hosts projects like Marketplace, has guest speakers, and does presentations on the concept of business itself. However despite being online, VentureTJ has made a comeback this year.
"We brought this back after about 4 years, so this is my first time seeing this event get put together," Vargese said. "This is a great opportunity to have students get involved in business. Being online, students are able to use more digital features."
Freshman Anusri Arun Prasath participated in VentureTJ, where she and her group pitched a product called "hyvitaa" ,an app used to improve people's nutrition habits.
"When I was younger, I enjoyed learning about topics in business, and I was always involved in business," Arun Prasath said. "In high school, there are more opportunities to pursue business. So, joining FBLA seemed like the natural next step."
While participating in VentureTJ, students delve into the process of creating their own business. Starting with an original idea, they continue to explore topics in advertising and making profits.The idea should be well-thought out, with all aspects completed.
"Our team began to brainstorm the best ways we could present our entire idea at once to the judges. I think that creating the pitch was the most important part, because that is what has all of the information about our product. We wanted to see which style of presentation would work best, and just how to present our product in a creative way," Arun Prasath said.
By participating in an event like VentureTJ, students are given a chance to explore their interests. Since it is so similar to Shark Tank, not only the basic idea counts, but the style of presentation is also important. Making a presentation interesting and fun to watch allows the audience to be engaged with the speakers. The entrepreneurs themselves benefit from participating, because of the professional atmosphere.
"VentureTJ gave me a sense of credibility for our next step, as well as a way to evolve.The judges' feedback can be used to help us improve parts of our business. I also thought that this allowed us to gain experience for future business-related competitions," Arun Prasath said. "My favorite thing about VentureTJ is that it's a place for anyone to pitch unique business ideas. There's also such a variety of different ideas. It also gives space for future business ventures, and an ability to speak in front of a group of people."