Hearts from home
Jefferson students spent their Valentine's Day in a number of ways, not all of them opting for the traditional route of romance and love letters.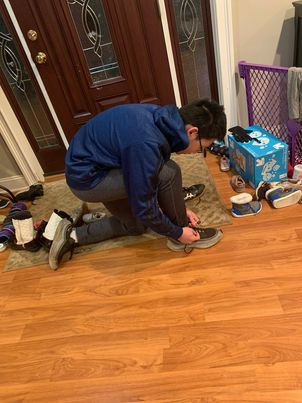 Valentine's Day. February 14. This annual holiday is a day of celebration, and a day to show off love to the world. It's the day to hug and kiss and buy each other cards filled with pink glitter. For some, it's the day to sit at home and watch movies alone.
But to Jefferson students during a pandemic, the holiday means much more than just teddy bears and heart-shaped chocolate.
"I baked cookies for my family," sophomore Aashna Johri said. "My parents got some gifts for me and my sister as small gestures, and we watched a movie together, which was really fun."
Love is the root of this holiday. It drives almost every action people take for each other and for themselves. Love is year-round, and it comes in many different forms.
"I express self-love by going out to exercise and telling myself something positive every day," freshman Daniel Qiu said. "I also give myself time to relax and watch Netflix."
Celebrating love looks very different this year. There are fewer parties and opportunities to spend time together. But at its core, love itself remains the same: unwavering, powerful, and vital to our lives.
"Love is when you have so much affection for something, you don't know what you would do without it. It's really the small gestures that show love," Johri said. "Now, I understand it on a much deeper level. I didn't realize how much I loved some of my friends until I was barely seeing them."
Several students have also found that certain Jefferson programs such as the Social and Emotional Learning (SEL) program helped them express love both for themselves and others.
"SEL has taught me how to improve my emotional health, which really helped me with self-love," Qiu said.