Science is a journey, not a destination
One of the school winners at the virtual science and engineering fair, Neha Sripathi, analyzed data on the early development of three year olds' gut microbiomes
The summer of 2020 was a bleak one for many, with the COVID-19 pandemic hitting and activities going virtual. However, senior Neha Sripathi decided to put this time to good use.
At the end of August, while other rising seniors were preparing for their final year at Jefferson, Sripathi began a research project she believed would be useful in the future. Months later, she submitted it to the schoolwide fair and placed first in the Microbiology category.
The science and engineering fair is an annual event held at Jefferson. Each year, hundreds of students scour their minds for ideas in order to solve an issue in one of thirteen categories: Animal Sciences, Behavioral and Social Sciences, Biochemistry, Biomedical Engineering, Cellular and Molecular Biology, Chemistry, Computational Biology and Bioinformatics, Earth and Environmental Sciences, Engineering Mechanics, Environmental Engineering, Microbiology, Physics and Astronomy, Robotics and Intelligent Machines, Systems Software, and Translational Medical Science. The best of Jefferson's projects are declared school winners and sent to wider competitions including regionals and state.
Once deciding to participate in the schoolwide fair, students face one more step: choosing a field of science they are passionate in. Sripathi chose to do a project on Microbiology.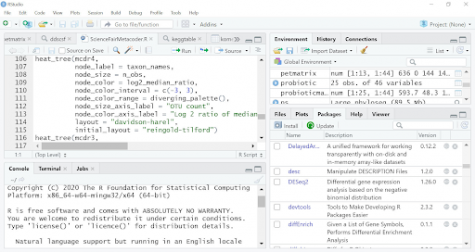 "I had taken a bioinformatics class junior year, so I had all these skills to do a computational project at home," Sripathi said.
Sripathi used her computational biology skills to conduct research on a repository of gut microbiome data, which had results from testing many variables. Using this comprehensive dataset, she was able to explore any factors she wanted.
"I have always been interested in the human gut microbiome. I wanted to do something that looked at that from a different perspective." Sripathi said.
Sripathi studied gut samples from three-year olds to find out what factors affected children's gut microbiomes during the first three years of life and how those factors affected the adult state of the gut microbiome. When the time for the fair arrived, she wrote a research paper and gave a presentation to judges. Participants were called in for short 20-minute time slots where they presented their research and were asked questions from the judges.
"I started the project in mid-August, and worked on the actual research itself through the end of October. I wrote my paper in the next couple months. In mid [to] late December I started prepping for the science fair and my presentation," Sripathi said.
The awards that students can earn at the Science and Engineering Fair are coveted because they are blue. However, many people participate because of their pure passion for science and research, as well as their fervor for making change in the world.
"I love science. I love research. It was a really fun, exciting experience for me." Sripathi said.