Little Mix drops "Confetti," their newest album
Little Mix returns to their pop roots in a new album that exudes celebratory spirit.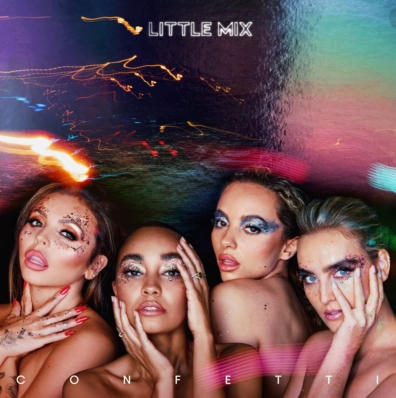 As one of the world's biggest girl groups, Little Mix has always had a dependable discography in which each of the four members, Jesy Nelson, Leigh-Anne Pinnock, Jade Thirlwall, and Perrie Edwards had a chance to shine.They primarily produced fun, pop when they began maturing their sound from pop to a more R&B and Latin influenced style in their previous album, "LM5." Their next album, "Confetti," released on November 6, was the next step in the process of revamping their sound.
"Confetti" is the album in which Little Mix have further matured their distinctive style. Like their preceding album, "LM5," it is more influenced by R&B and reggaeton themes. Unlike "LM5," "Confetti" allows Little Mix to return to their Europop roots. I hoped that this album would allow the quartet to innovate and continue transforming their previous pop style as they had reinvented themselves in "LM5."
Since the album does not have a very specific aesthetic or narrative, Little Mix could merge all of the different styles they're capable of. From the reggaeton influenced "Sweet Melody" to the 80's pop inspired "Break Up Song" to the slightly more sultry "Rendezvous," it showcases their developing versatility. 
Unfortunately, I found that choosing not to have a specific narrative and to rather have a fun aesthetic may have inadvertently led to the occasional sappy lyric. The songs, "Happiness" and "A Mess (Happy 4 U)" were the primary culprits, but they mostly managed to make up for it with production and vocals.
Even as Little Mix's music matures, their sound is familiar and contains hints of their earlier eras. Some songs sound like they could fit prior albums, but were modified to fit the new concept. For example "Gloves Up" could have fit in the "Salute" album era. And while it includes a song called "Not a Pop Song," the album is primarily pop-based, just like their previous ones.
While fans and critics of Little Mix love it alike, the callback to their previous era seems almost too familiar. Every single song on the album is tinted with classic Little Mix flavor, but it can feel a bit underwhelming since it did not add any major touches to Little Mix's style. This was especially apparent since this is the first album after Little Mix's label switched from Syco Music to RCA, allegedly over creative disputes.
I personally favor R&B inspired tracks and darker aesthetics, so my favorite songs tended to follow suit. My top three songs were "Confetti," "Rendezvous," and "Sweet Melody." I also especially enjoyed the subtle jab at their former record label owner Simon Cowell in the lyrics of "Not a Pop Song."
The "Confetti" era leaves Little Mix in an interesting position, rather like the year 2020 has left many people. The album itself feels like a summary or a highlight reel of their entire discography. While it is one of their highest rated albums so far critically, Little Mix will definitely need to try something new in the next album to keep critics satisfied.