Girls Lacrosse team starts conditioning under Phase 3 restrictions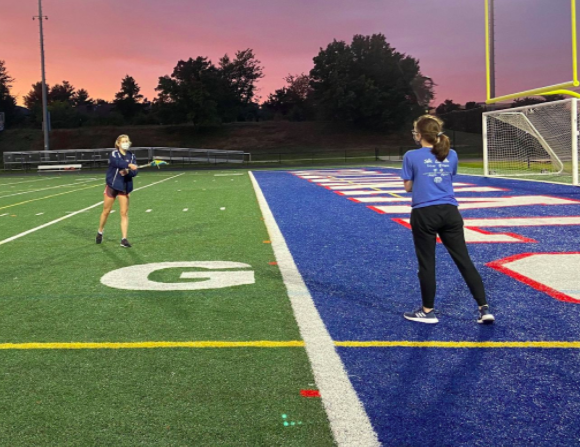 As sports practices shift into Phase 3 restrictions across Fairfax County, the Jefferson Girls Lacrosse team is eager to get back to playing. Phase 3 restrictions keep players at least 10 feet apart and require all equipment to be frequently disinfected.
Although lacrosse season is still several months away, the girls have already started conditioning every Wednesday and Friday.
"Having our practice so early in the season is going to help a lot with our stick skills and catching and passing," one of the team's captains Catie Granum said. 
This brush-up on the basics could have benefits for both returning and beginning players. 
"Our newer players struggle a lot with that and that's one of our weakest points. That'll help a lot and also keep the older players in shape," Granum said.
With no opportunity to advertise their team in person, the athletes had to find new ways to promote. 
"When we're in school, we can really rope people in, but now that everything is virtual, we have to do a lot more promoting online–which is difficult because a lot of people just skim over it," senior Veronica Wong, another co-captain, said. 
However, the team has been able to grow in size even with these obstacles. 
"We've had a lot of girls that have emailed me and said they want to try lacrosse and they show up with their sticks ready to go," Coach Erin Keenan said. "We've actually had a much bigger turnout of brand new players than I thought we would."
Although the team has been able to attract new players, they are worried about how practices will occur in the future considering lacrosse is a high contact sport.
"For defense, we have to touch each other, be really close, and work on drills together. It's going to be difficult to continue if we aren't able to touch each other," Wong said.
Yet despite these uncertainties, the athletes are still hopeful that the oncoming spring season will occur. 
"Even though it's an abbreviated season," junior and varsity player Lily Walters said, "as long as we are abiding by any social distancing rules and everyone's giving their all, it'll work well."