That good old-fashioned "Razzmatazz"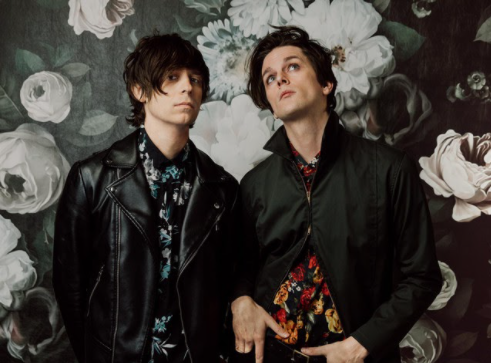 I Dont Know How But They Found Me (iDKHOW), an indie pop-punk duo, released their debut full-length album "Razzmatazz" on Friday, Oct. 23. Dallon Weekes, the former bassist for Panic! At The Disco, is the lead singer and also plays bass in the album. He's accompanied by Ryan Seaman, the former drummer for Falling in Reverse. 
Although the band has only released two EPs ("1981" and "Christmas Drag"), it has amassed a large fanbase, and they opened for the band Waterparks on tour. Adding a fresh twist to the traditional pop-punk sound of the early 2000's,  "Razzmatazz" is an album entirely their own, delivering banger after banger in this sparkling pop-rock masterpiece. 
The album starts off with "Leave Me Alone," an upbeat electronic track with almost sinister lyrics and impressively high vocals. The first single off of the album, the tune switches flawlessly between feeling retro and futuristic. Although there are only two members in the band, the song seems larger than life, with echoes and disco beats. 
"Nobody Likes the Opening Band" is a ballad to the perils of performing, the third song on the album. Composed of only piano, vocals, and a tambourine, this simplistic track still manages to be both heartwarming and add a touch of comedy to the album.
In addition, "Kiss Goodnight" and "Need You Here" are sweet dedications to Weekes' family. "Kiss Goodnight" is a love letter to Weekes' wife, Breezy Weekes, and "Need You Here" is for his children, with his daughter Amelie singing on the track.
"Sugar Pills" is personally my favorite song, an indietronica track with catchy bass riffs that would seem at home in a late 70s pop album. With bright vocals that invoke a sense of desperation and longing, the song is sure to get stuck in your head.
The band cites 80s rock influences such as Marc Bolan and Joe Jackson as inspiration, and this is reflected in the title track "Razzmatazz." A lot of the lyrics from this song seem to comment on today's society, with lines like "And now, well some things just cannot be fixed / With sparkled tongues and politics." Many of the songs in the album, including "Razzmatazz," include saxophone solos, and while at first glance they may seem out of place with synth and pop vocals, the band manages to incorporate jazz and glam rock elements seamlessly. 
The definition of the word "razzmatazz" is "a noisy, showy, and exciting activity and display designed to attract and impress," and the album definitely lives up to its name. Overall, this album is vibrant, fun, and feels as much out-of-time as it is perfectly suited to the world we live in. It'll have you shouting the lyrics for days to come.