Boys basketball loses to Chantilly in closing minutes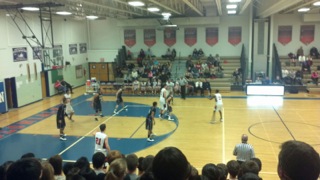 It looked like the boys varsity basketball team had the Chantilly Chargers well in hand.
The Colonials took an early lead in the first quarter and continued to dictate the flow of the game for the rest of the first half. Senior David Rice made a three point shot with 20 seconds left before half time to put the Colonials up 28 – 23, and the team rode that momentum into the second half.
Chantilly came out very strong in the third quarter, and that hard work, combined with a few careless turnovers by the Colonials, allowed the gap to be closed. At the start of the fourth quarter, the game was tied up at 36 – 36.
During the third quarter, the crowd started chanting "Stanford" in honor of senior Howard Small's recent accomplishment of being accepted into the prestigious school. It was a moment that inspired everyone.
"Howard shows his dedication to both academics and athletics, and I aspire to succeed just as he did in both basketball and school," said freshman Deepak Jayachandran, captain of the freshman basketball team.
The game was taken over by the Chantilly guards in the final quarter, who were able to penetrate the Colonials defense and get many players in foul trouble. Senior point guard Migdam Gebril fouled out with three minutes remaining, and Chantilly was able to maintain a healthy lead until the final buzzer. The final score was 42 – 57.