"I'm Thinking of Ending Things" (2020): Two viewings, two reviews
Charlie Kaufman's least accessible movie reveals a magnificent emotional core upon further examination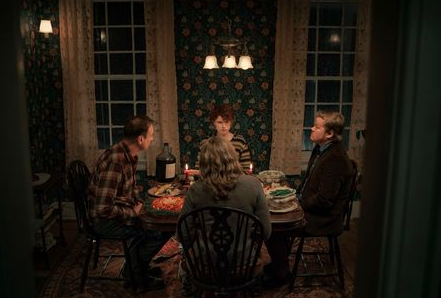 Max Vetter, Entertainment Reporter
September 26, 2020
1st Viewing – Spoiler Free
Genius writer and director Charlie Kaufman's straight to Netflix feature, "I'm Thinking of Ending Things" is a film about mundane domestic terror. Even with beautifully perplexing movies like "Synecdoche, New York" (2008) and "Anomalisa" (2015) under his belt, his newest film is by far his most confusing. It follows a young woman, played fabulously by Jesse Buckley, on a road trip with her boyfriend to his parents house. While she certainly likes Jake, she wants to end their relationship for whatever reason. As the trip goes along, the young woman starts to lose her sense of self as abstractions upon abstractions reveal themselves in a hellishly stressful game of spot-the-difference.
The movie is stunning, with master cinematographer Łukasz Żal creating beautiful and impeccably framed shots in 4:3, similar to his work in "Ida" (2013). The compositions of the film are well suited for the intimate feel, and often leave an uncomfortable amount of space above characters heads, complementing the uncomfortable nature of many of the scenes. 
But this film would be nothing if it weren't for its excellent script. Charlie Kaufman has a wonderful way with dialogue, crafting rich characters and putting them in the most awkward and anxiety inducing situations imaginable. It's incredible how well he can pace scenes which often just consist of people sitting in cars. This is complemented by the fantastic acting all around, with Toni Collette and Jesse Buckley giving some of their best performances to date.
As the film piles on layers and layers of abstraction, it becomes more and more unsettling, revealing the true horror of being trapped in a relationship where you don't feel you have autonomy anymore, ala "Rosemary's Baby" (1968) and "The Shining" (1980). It's nearly impossible to reveal the genius of this movie without spoiling too much, but you will not be able to predict the last act of the film. 
"I'm Thinking of Ending Things" is fabulously abstract and thoughtful just like the rest of Charlie Kaufman's filmography, while still keeping the emotional core that's so important to his work. Though I can't say you'll understand the film on your first viewing -I certainly didn't – I think that the film offers enough that you'll not only enjoy it, but be encouraged to watch it again. Go see it, it's 2020's best film by far!
Check out the review with spoilers here!