Making a splash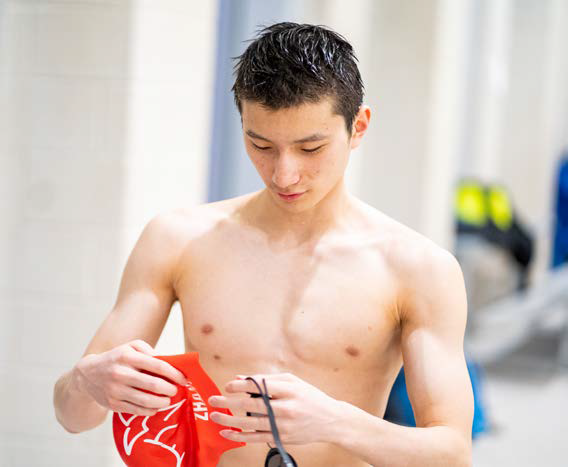 Heart pounding, mind racing, stomach churning, sophomore Michael Zhang readies himself for the 100 meter breaststroke. Suddenly, the horn goes off, and eight swimmers jump into the pool. Immediately, Zhang takes an early lead, setting himself apart from the pack. He maintains his lead over the course of the race, his arms and legs moving perfectly in unison like a well-oiled machine. Finally, Zhang emerges victorious, finishing a full second before any of his competitors.
Ranked 24th in the state of Virginia amongst the class of 2022, Zhang has not lost a race in over three years and has broken more than 10 records across multiple strokes.
"I broke like seven or eight records in freestyle, breaststroke, fly, and IM on my summer league. Then, I broke even more records in the league in 50 meter breaststroke." Zhang said.
Rise to the Top
Zhang's love for swimming began at the age of six, when his parents enrolled him in a swimming class with his local swim team, the Burke Centre Penguins, so he could learn how to swim. However, after discovering his potential through participating in meets, he began taking swimming more seriously.
"I participated in some meets, and through the meets I realized that I was pretty fast," Zhang said. "And that's when I decided to join my first year-round team, the Mason Makos."
As Zhang continued pushing himself and cutting his times, he eventually found major success in the eighth grade, obtaining the fastest time for 14-year-olds on the East Coast in the 100 meter breaststroke. This allowed him to qualify for the prestigious USA Swimming's Zone Select Camp, an extremely selective program that takes elite swimmers across the East Coast and gives them even further training.
"When I was in eighth grade, I qualified for Winter Juniors, which is a junior national meet, so the cuts are really hard. But one meet, I dropped nine seconds, and I got the exact cut. And that meet, I got first for fourteen-year-olds in the 100 meter breaststroke, which allowed me to qualify for Zone Select Camp too, and almost nobody qualifies for it [Zone Select camp]," Zhang said. "And that was a turning point because I knew I was always good, but I never thought I was one of the fastest swimmers in the nation."
Current Routine
Now, as someone who competes with both TJ's Swim and Dive team in addition to his own team outside of school, swimming has become a defining part of Zhang's life.
"It pretty much is who I am. People know me as the guy who does swimming," Zhang said. "It's a big part of my identity because it's what I'm good at."
Specializing in the breaststroke and freestyle strokes, Zhang has an extremely grueling practice schedule, going to practices with TJ's Swim and Dive team in addition to practices with his other team, the Dragon Swim Team, and his own individual practices. He often practices for over 20 hours a week, attending these practices in addition to working out on his own.
"I have many portions – I have a team practice, I have a practice by myself and my dad, and then I have gym workouts," Zhang said. "I prefer the individual ones because I have my own weaknesses, and that individualized practice is how I push myself and set benchmarks for myself."
Although Zhang admits that the constant practices often tires him out, his desire to drop his times and continue to win drive him to continue.
"I'm going to be real, swimming practice really sucks. When you do something for 20 hours a week, the grind gets boring. With swimming, you can't do anything about it – you can't listen to music, you can't do anything else," Zhang said. "But I think it's cool to work hard for a long time in practice, and then when your times go down a lot, it feels good to see your hard work pay off."
Looking Forward
Despite the time he's invested in swimming, Zhang does not intend to continue swimming after college in pursuit of the Olympics.
"I want to get recruited to college for swimming because I've put so much time into it already, [but] people don't understand how hard it is to get into the Olympics," Zhang said. "I [will be] competing against people who do swimming full time, [and] I don't want to do that."
Zhang believes that the true purpose of swimming is being able to influence others, rather than focusing on his own successes.
"I feel like at the end of the day, when I graduate, none of this will really matter, and that's why I want to make an impact right now," Zhang said. "I'm able to inspire other people in hopes that they're able to become faster and influence other younger swimmers how I influenced them."